Posted on
Lady Wolves Return Volleyball Starters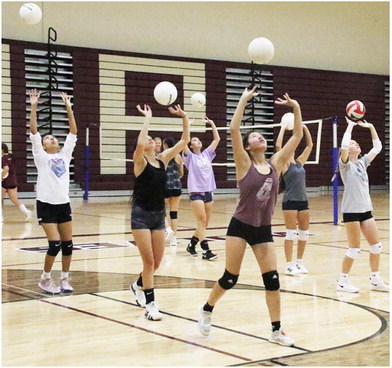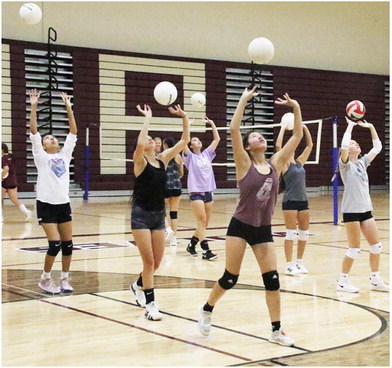 With a strong core of starters back, the Wolf Point Wolves anticipate being near the top of the District 2B volleyball standings this season.
"We have a lot of upperclassmen on the team," firstyear head coach Karli Mc-Gowan said after the team's first practice on Friday, Aug. 12.
The program features 24 girls including six seniors, five juniors, five sophomores and eight freshmen.
Seniors are J'Elle Garfield, Katelyn MacDonald, Mahala Moran, Jerzey Azure, Trinniti Garrett and Miracle Welch.
Sierra Hamilton, a junior, earned All-Conference honors last season. Garfield and MacDonald were each second team All Conference selections.
Kylie Rodenberg, a junior, was the squad's starting setter last year. Kaleah Miller- Toves, a junior, was a starting outside hitter.
Other girls with varsity experience include Adeia Erickson and Azalei Ackerman.
"We're going to have a strong front row for sure," McGowan said. "Defensively, our front row should be fun to watch."
Serving should also be a positive point for the Wolves.
The coach is hopeful a few more girls step up and improve their back-row play.
McGowan played volleyball in high school for the Wolves. "A long time ago," she laughed.
She also participated in competitive intramurals at MSU-Bozeman. She has served as an assistant high school coach.
"It's exciting, but it's a little nerve racking," McGowan said of being the head coach. Assistant coaches are Janaeya Sutherland and Johnelle Calder.
"My big push is to have the varsity play to their best and have the younger ones progress," McGowan said.
Wolf Point's first home match is Sept. 1 against Harlem.

GarfieldWolf Point's J'Elle Garfield strikes a serve.(Photo by Bill Vander Weele)