Posted on
Brayden Steele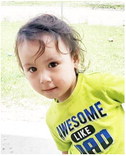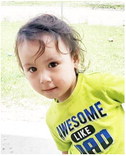 Brayden James-Lee Steele, two, of Wolf Point died July 31, 2022, in Wolf Point.
He was born May 17, 2020, in Wolf Point to Hailey Steele and Cody Weeks-Combs.
He filled his family's lives with so much love and joy. He was so full of life and absolutely loved playing outside. He would play outside from the time he woke up in the mornings until it was time for him to go to bed. His Grandma Fern and "Dad" TJ would sit outside with him all day long until it was time to go inside — not by choice but because he would make them. Once outside with him, there was no going back inside.
Everyone that knew him would get hugs, kisses and fist bumps, high five or just a great big happy "Hi!" He loved playing with his "best friend" Haumni-Waylon Youpee III and cruising with Grandpa TyRay Healy, who introduced him to cruising around at the Bridge Park.
He is survived by his
"moms," Hailey, Hannah, Gram Fern, Gram Billie Jo, Gram Frannie, Holly, Vicky and Kristian; dad, TJ Connor; grandparents, Cody White Bear, Jimmy Combs, Chris Neulman and Olyn Payne; and great-grandparents, Lois Weeks and Linda Weeks.
The funeral service was held at 11 a.m. Wednesday, Aug. 10, at the Clayton Stevenson Memorial Chapel in Wolf Point. Interment was at Chelsea Cemetery. Clayton Stevenson Memorial Chapel was entrusted with the arrangements.