Posted on
Culbertson's Owan Visits Red Oxx Manufacturing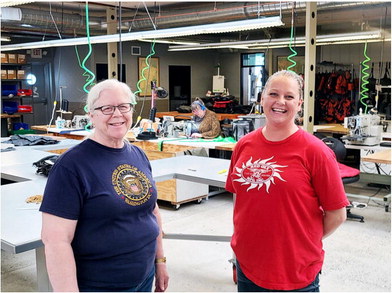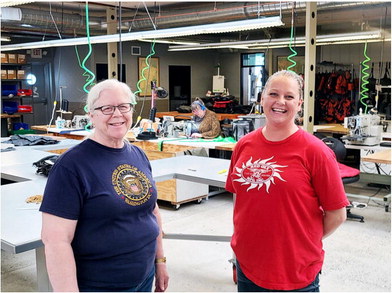 Culbertson High School business teacher Phyllis Owan learned on-the-job skills through a one-week teacher externship at Red Oxx Manufacturing in June.
Owan will take what she learned back to her classroom in the fall and will share what she learned with fellow educators at education conferences throughout the year.
Red Oxx Manufacturing produces hand-made bags, travel accessories, railroad gear and fitness items from their Billings factory.
"I learned about their business model and observed all aspects of the business, including raw materials, product assembly, quality assurance of the finished product, marketing, sales, and shipping," said Owan. "Most of my non-teaching work experience has been secretarial for small offices or government, so this was a brand new experience for me that I will definitely incorporate into my business classes at Culbertson High School."
"The teacher externship is a great opportunity to showcase our business," said Carissa Livesay, Production Manager at Red Oxx Manufacturing. "American manufacturing is continuing to hold its own in the United States and our firm is a solid representation of that. Our employees work as a high-performing team with strong work ethic. Pride, professionalism, and punctuality are key values in our workplace."
Opportunities in manufacturing are available statewide. Manufacturing jobs, on average, pay more than $52,000 annually, which is 11 percent higher than the state average annual wage. It is estimated that more than 20,000 Montanans work in manufacturing.
"The old myth that manufacturing jobs are dangerous, dirty, dead-end, and depressing couldn't be further from reality," said Paddy Fleming, Director of the Montana Manufacturing Extension Center. "Manufacturing today offers career opportunities that are high-paying, high potential, important, and interesting. We want teachers to experience the industry first-hand to help bring relevant, real-world contact into classrooms throughout Montana."
The teacher externship program developed through a partnership between the Montana Manufacturing Extension Center and Reach Higher Montana, which formed from both organizations' involvement in the Montana Work-Based Learning Collaborative. Members of the collaborative work together to achieve a shared vision for every young adult in Montana to have multiple pathways to economic self-sufficiency supported by a statewide work-based learning system.
The Montana Manufacturing Extension Center can be reached at 406-994-3812. To learn more about Reach Higher Montana, visit Reach-HigherMontana.org, or on social media.