Posted on
Winners Selected For Wild Horse Stampede Parade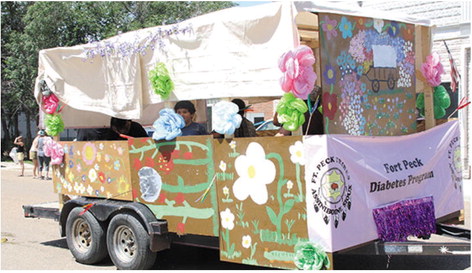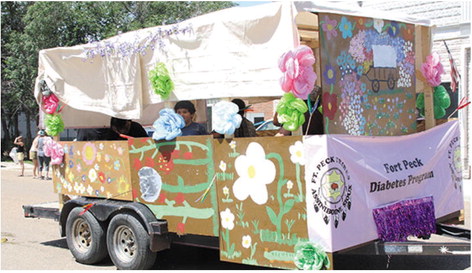 The Fort Peck Diabetes Program's float was selected the grand overall winner for the Wolf Point Wild Horse Stampede's parade.
Selected best restored vehicles were a 1969 Chevy Chevelle by TJ Bow, a 1984 Chevy S-10 by Shawn Boysun/Nickwall Creek Farm, a 1979 Ford F150 by Jesse Fettig and a 1977 Chevy K20 Custom by Shawn Boysun/Nickwall Creek Farm.
The Fort Peck Tribal Courts was voted the best cultural heritage float. THIP placed second in the category.
The Tiny Tots Child Care earned the best youth float award. Also placing were Stampede kids, Fort Peck Tribes' Headstart and the Wolf Point Community Organization.
The Medicine Creek Caregivers took first for best commercial float. NEMHS placed second, HPDP took third and Fort Peck Community College placed fourth.
The Wolf Point Lady Yellow Jackets were first for best youth club float. The Wolf Point competitive cheer placed second and the Youth Council-NDO took third.
For best adult club float, NEMHS Charitable Foundation took first. Fort Peck Tribal Health placed second and Honeyland/SueBee/Rodenbergs captured third.
Best original vehicle went to a 1926 Model T by John Fowler. Also placing were a 1969 Pontiac Lemans by Gary Johnson, a 1962 Buick Special by David Toavs and a 1965 Mustang by Marlin Reddig.
Steve Wanderaas won for best adult cowboy. Dustin and Darci Hunsaker took first for best adult pair.
Tiara Whitmus placed first for adult costume rider while Alyssa Nordlund placed second and CeCe Reid took third.
Kashlyn Speak Thunder earned first for youth cowgirl. The Madison family took first for family riders.
Samantha Reed was the winner for youth costume. Rebecca Gorder took second, Emily Sibley was second and Evelyn Sibley took third.
Loren and Vicki Bisbee won for the best wagon.