Posted on
School Play Produces Many Laughs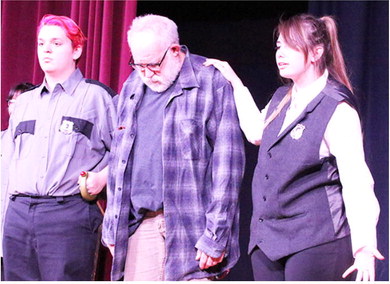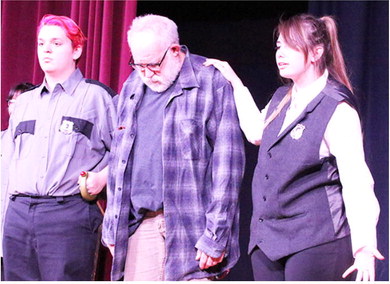 By Bill Vander Weele
Audience members enjoyed more than a fair share of laughs as Wolf Point High School students entertained with their spring play on Thursday, May 19, and Friday, May 20, in the high school auditorium.
The students performed the comedy mystery Moriarty's Revenge by Christopher Burruto. The play was co-directed by Tiffani Darby and Jacob Boysun.
With the comical expressions from students Del Eymard and Julianna Garfield providing much laughter, the play attracted decent sized crowds both nights.
The cast included Chase Adams as Inspector, Trevin Boysun as Conductor/ Bubbles the Clown, Avalon Christian Adams as Newsie 2, Eymard as Sherlock #2, Callan Fox as Judge, Abel Garfield as Mr. Essex, Julianna Garfield as Klaatu/Jenkins, Dante Granbois-Dionne as Guard 3, Hayden Payne as Newsie 1, Haidyn Raining Bird as Guard 1, Hunter Raining Bird as Guard 2, Sapphire Redfield as Sherlock Holmes #1/Leotold, Clare Sansaver as Old Lady, Ryan Schumacher as Dr. James Watson, Daniel Sears as Professor James Moriarty, Audrey Weinberger as Catherine and Logan Wolff as X-tra.
Ryver Summers and David Hopson took care of the lights and sound.