Posted on
Multi-County Fire Jumps River Near Brockton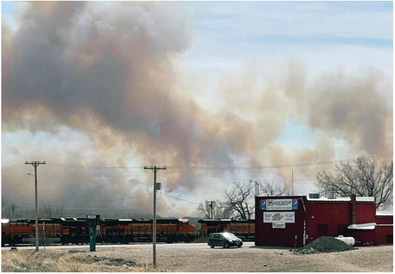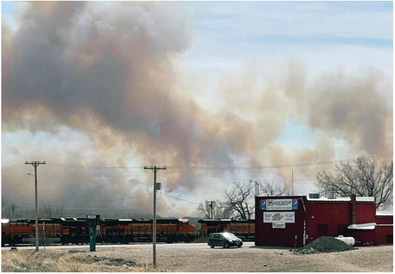 Roosevelt County Fire Warden Mike Olson told the Northern Plains Independent that agencies and resources from across the state were deployed to fight a large fire originating east of Poplar April 30.
The fire jumped the Missouri River near Brockton Friday. Fire containment efforts in Roosevelt and Richland counties continued over the weekend. Approximately 4,997 acres burned, said Olson.
Firefighters from the Poplar Volunteer Fire Department were called around 1:30 p.m. April 30, along with departments from Bainville, Culbertson, Wolf Point, a DNRC team from Lewistown and a Bureau of Indian Affairs wildland crew.
Olson said the fire was started accidentally by locals who were hunting gophers in the Cottonwood river bottom southwest of Brockton. Approximately 687 acres burned on the north side of the river.
Olson said burnout activities were conducted south of the Shanks farm and a DNRC helicopter was used to spot fire movement and direct crews. Precautionary firebreaks were employed.
Temperatures in the mid-80s and winds up to 30 mph contributed to the blaze. Olson, an assistant track coach, said he skipped a track meet in Lambert Friday to prepare for likely fire activity. A red flag warning was issued and a burn ban was in place. Olson urged area residents to be mindful of dry and drought stage conditions. He said extra caution is needed.
After crossing the river, the fire moved into the Charlie Creek drainage in Richland County between County Road 316 and County Road 321. According to area media, multiple resources from both Roosevelt and Richland counties were deployed.
Oil field workers and residents also responded to the blaze. The fire jumped County Road 321 briefly, but residents contained the blaze until a grass fire unit from Sidney arrived on the scene. The fire was contained by 6 p.m. Saturday.
Roosevelt County remains under a burn ban, which means that burn permits will not be issued. "This includes the use of burn barrels," said Roosevelt County DES coordinator Lindsay McNabb in a press release. "The only open flames allowed at this time are small back yard fires in an established fire ring and BBQs."
If you have questions about creating a defensible perimeter around your home or other methods of fire prevention, please contact Olson at 406480-0730 or call your local fire chief.