Posted on
Appreciation Week Highlights Local Clerks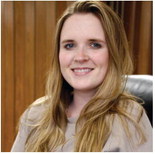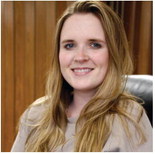 Professional Municipal Clerks Week (May 2-8) extends appreciation to all municipal and deputy clerks for the services they provide their communities. Clerks serve as the professional link between the citizens, local governing bodies and government agencies.
The International Institute of Municipal Clerks (IIMC), sponsor of the event, honors clerks for continually striving to improve the administration of their duties through participation in education programs, seminars, workshops and annual meetings of their state, province, county and international professional organizations. Nikki Rogers has served as Town of Bainville's clerk-treasurer, since July 30, 2014, and has been a member of IIMC since June 2005. She first learned the job while serving the City of Missoula as deputy city clerk. Rogers is vice president of the Montana Municipal Clerk, Treasurers, Finance Officer's Association Executive Board.
Tiffani Jasper has served as Town of Culbertson clerk-treasurer since 2018. She said she started working for the town when she had her son Kaiden Jasper, now 3, so she could base her work life in Culbertson. She is supported in her role by utility billing clerk Amber Fox.
LeAnn Krumwiede Johnson has served as Town of Froid clerk-treasurer since 2013. She credits the flexible schedule with allowing her to parent in Medicine Lake while working for the town.
She said Froid Mayor Sheri Crain talked her into the job. "I'll stay at least as long as Sheri," Johnson said, when asked how long she plans to continue in the position.
All three clerks said they don't typically get to socialize or compare notes, despite their proximity to one another, apart from the annual gathering in Billings during Clerks' Week.
This year's event was canceled due to the pandemic.
IIMC is a professional association of city, town, township, village, borough, deputy and county clerks. The organization has 14,700 members throughout the United States, Canada and 15 other countries.
IIMC President Mary Johnston urges clerks to highlight the importance of their roles and functions and the impact the municipal clerk's office has on the public.
"There are many responsibilities that the public takes for granted, such as keeping the council advised of legislation that affects them," said Johnston. "Yet, if clerks are inattentive in their duties, then the efficient operation of our local government is greatly affected.
"The functions of the clerk necessitate a thorough knowledge of law procedure, administration and interpersonal relations. To keep up with the consistent transformation in local government, many clerks participate in continuing education and seminars and attending clerk Institutes," said Johnston.