Posted on
Visiting Americorps Workers Explain Vaccination, Book Titles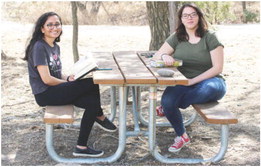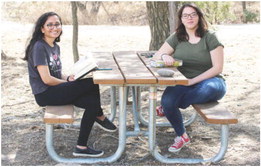 Visiting Americorps workers Hannah Batista and Honey Patel have been working with the Roosevelt County Health Department in Wolf Point since October 2020.
On Easter Sunday, the pair spoke with the Northern Plains Independent
at the Culbertson Bridge recreation area on the Missouri River. They passed part of the holiday reading quietly in the fair weather.
Patel joined the department from Tampa, Fla., and Batista came from St. Louis, Mo. The both signed up as Americorps Communities in Action Members assigned to the area to join efforts with the area mental health coalition.
After arriving, the pair were reassigned to help with vaccination and other duties related to combating the ongoing pandemic. Batisita stressed that vaccination efforts are going strong. Two appointments are offered weekly via the health department. She said all anyone over the age of 16 needs to do is call 406-653-6223 and set up a time and date. Readers can also visit the department's Facebook page.
Batista and Patel have been living in Wolf Point while serving with the health department.
Patel will be leaving early in May. She plans to return to Tampa to prepare for medical school. She said she's originally from a rural environment in Illinois and enjoyed the small town aspects of living in Wolf Point. Batista is in the area on a full year contract.
Pressed for details about their reading choices, they said the day's titles were Kingdom of Ash by Sarah J. Maas and Siege and Storm by Leigh Bardugo. Both books were checked out at the Roosevelt County Library Main in Wolf Point.