Posted on
Mask Order To Remain In Place At District Level In Wolf Point School District Facilities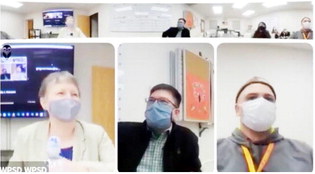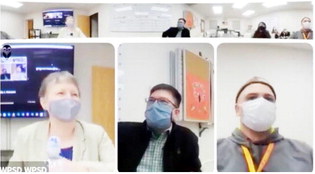 The Wolf Point School District board of trustees held their regular meeting at the district office Thursday, Feb. 11. The following teachers were approved for hire and/or volunteer positions: Rodney Paulson will assist the athletic director as a volunteer; Angela Figueroa, family school coordinator; Nancy Richter, Title I tutoring; Andrew Tumonong and Ronnel Tumonong, after school programing; Riggins Smith, assistant cook/lunch van driver; Lindsay Nefzger, K-3 substitute; and Demarko Shoots-Lilley, assistant custodian, Northside.
Resignations were accepted from longtime high school science teacher Teresa Romo, Southside teacher and coach Demi Henderson and assistant cook Reagan Smith.
Questions were raised during public comment regarding fairness in posting policies for district employment opportunities. Erickson had no direct response, but assured the board that current practices are in line with regulations and requirements.
A motion to hire Jessica Ruffing for district executive assistant was tabled.
An independent contractor agreement to conduct evaluations at Southside was approved with Crystal J. Redgrave.
An acting superintendent agreement with administrator James Baldwin at a rate of $350 per day was approved to cover Erickson during her upcoming maternity leave. A contract was also approved with Open Road for educational consulting services.
The WPEA contract was ratified by the board for a two-year period, as was the administrative salary schedule.
Board reports were offered in the meeting packet from all school principals, the Indian Education Committee, facilities director Shane Reed, director of admin and curriculum Sarah Chambers and superintendent Loverty Erickson.
Principal Georgie Gourneau appeared remotely and said 12 students advanced to the district spelling bee, with one student placing in the top five in that competition. January employees of the month at Northside were Barbara Olson and Ken Clampitt. Attendance for the month of January was 92.23 percent.
Junior high principal Greg Gourneau also spoke. He said the school's current population is 109. Overall attendance was 86.15 percent for January. He said there have been 11 referrals total so far this year.
High school principal Kim Hanks phoned in briefly from the basketball games. She said the opt-out population at the high school is down to approximately 30 students.
Erickson said the district and the union have agreed to keep mask order policies in place despite the recent lifting of the statewide order by Governor Greg Gianforte. She also said the district has purchased two vehicles from Fox Ford and High Plains Motors with CARES Act funding at a cost of approximately $66,000 and 65,000 respectively.
The trustees voted to call for a mail-in and/or drop-off ballot election for two three-year board spots (districts three and four). The deadline is Tuesday, May 4, at noon. Applications must be in to the district office by 5 p.m. March 25.
Resignations have been accepted for board chair Mark Kurokawa and Janice Wemmer-Kegley, Minutes were accepted for the Jan. 11 regular meeting, as were warrant registers and claims.
The next regular board meeting is set for March 8.