Posted on
Lustre Girls Edge Bainville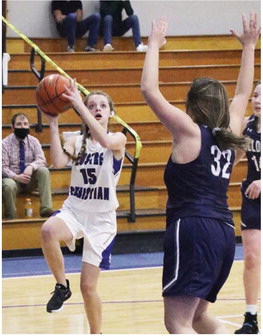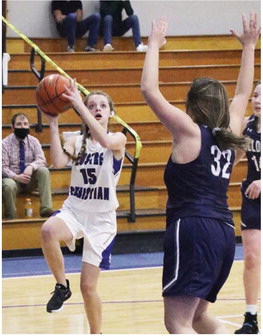 pulled the Bulldogs to 42-41 with still 18 seconds remaining.
The Lions, however, held on for the victory as a pair of free throws by Holzrichter and a basket by Grace Brown put the margin at 46-41 with only 12 seconds left.
Lustre's top scorers were Reddig with 13, Holzrichter with 12 and Brown with 11 points. Also scoring were Whitmus with seven and Ashley O'Hara with four.
Leading the Bulldogs were Rabbe with 14 and Wilson with 10 points. Also scoring were Pippenger with seven, Adkins with six, Kendra Romo with two and Micah Anderson with two.
Bainville led 10-7 at the end of the first quarter but trailed 16-14 at the half. Lustre Christian led by as many as eight points in the third quarter.
Holzrichter
Lustre's Aubri Holzrichter takes aim.
(Photo by Bill Vander Weele)