Posted on
Poplar Boys Drop Shoot-out Against Hays-Lodgepole Squad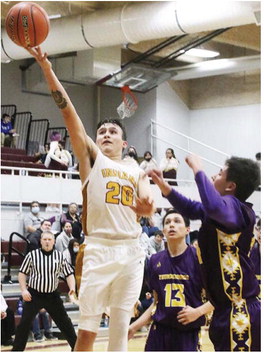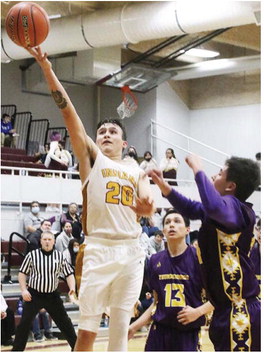 the first quarter.
Poplar accounted for a 10-0 run in the second quarter on four points by Growing Thunder, three points by Lambert and a three-pointer by Medicine Cloud for a 32-25 lead. The Thunderbirds battled back to 36-33 at the end of the half.
Shambo, a junior, led Hays/ Lodgepole to a 41-38 advantage midway into the third quarter.
Poplar moved ahead 49-48 at the end of the period.
Lambert
Poplar's Wilfred Lambert drives in for a basket against Hays/Lodgepole.
(Photo by Bill Vander Weele)