Posted on
Poplar Girls Fall Short To Thunderbirds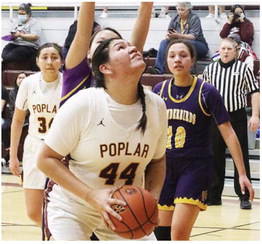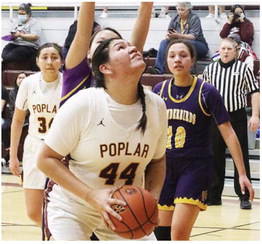 the margin to 60-46, but the Indians couldn't get any closer.
Poplar's top scorers were Dionne and Nordwick with 12 points each. Medicine Cloud finished with six points. Adding four points each were Azure, Kessee Erickson and Belton. CarryWater added three points.
Leading the Thunderbirds were Sierra Chandler with 15, Ella Messerly with 12 and Alliya PrettyPaint with 11 points.
The three-point shooting of Messerly led Hays/Lodgepole to an early 11-5 lead. Poplar accounted for the last eight points of the first quarter on six points by Nordwick and a basket by Dionne for a 13-11 advantage.
Dionne
Poplar's Macey Dionne looks to score.
(Photo by Bill Vander Weele)