Posted on
Play Ball!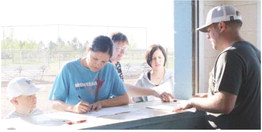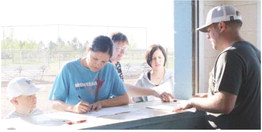 Wolf Point Youth Sports Starting Seasons
Uncertainty over youth sports this summer gave way to tentative baseball and softball schedules for Wolf Point Youth Sports with seasons starting Tuesday, June 2.
The decision late last week to move forward with seasons followed two successful signups held at the concession stand at the Borge Community Park ballfields Tuesday, May 19, and Thursday, May 21.
With Poplar's youth sports program not participating this year, summer baseball and softball will be more of a travel program with fewer home games and a short season.
Wolf Point Youth Sports is a program of the city recreation department. Baseball and softball programs are held every summer and soccer every fall. The programs starting this summer are bee-wee baseball and softball for boys and girls ages six-toeight. Pee-wee offers instruction in fundamentals while the kids have fun.
The minor programs are middle skill level and offers baseball and softball for boys and girls ages nine-12.
The major program is fast pitch softball for girls ages 13 through high school. Playing as the Lady 'Jackets, the Wolf Point team is starting its third season playing fast pitch.
T-ball, a multi-gender instructional program for boys and girls ages 3-5, will not be held this year.
All home games are played on the Borge Community Park ballfields on Listerud Street west of Sixth Avenue.
Boys and girls ages 13-15 and 15-18 have the option of participating in the Wolf Point Yellow Jackets baseball programs. That program is not part of Wolf Point Youth Sports and plays home games on Burkie Field.
Wolf Point Recreation Department baseball director Cody Larson said the summer recreation program in Plentywood made the travel schedules.
"I know they are doing their best just to have a season. They are trying to get full games in at all levels," Larson said.
Wolf Point teams open the season at Culbertson Tuesday, June 2, and play at home Tuesday, June 9. Game times and full schedules were not available early this week.
Families that didn't get to the sign-ups can sign-up their children through Thursday, May 28, by contact Larson at 406-688-8705.
Held