Posted on
Season Ends At Divisional For Lady Wolves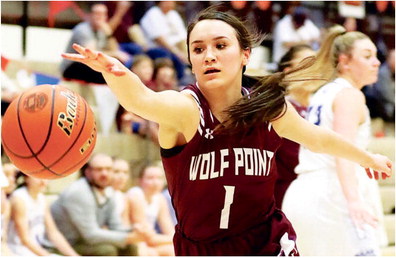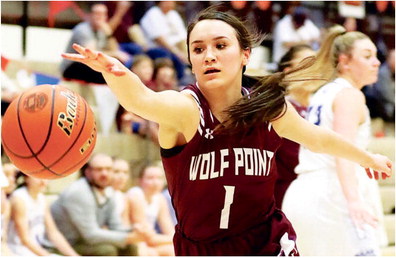 The defending Class B state champion Lady Wolves' basketball season ended at the Northern B girls' divisional tournament at Shelby Thursday through Saturday, March 5-7. Wolf Point finished sixth. Only the top three finishers qualify for the state tournament.
Two District 2B teams and one from District 1B qualified the State Class B Tournament at Butte Thursday through Saturday, March 12-14.
The Malta M'etts won the divisional title and a No. 1 seed at the state tournament. Shelby finished second and Harlem third. Wolf Point finished sixth at the divisional.
Malta topped Shelby 47-38 in the championship game and Harlem beat Glasgow 67-49 for third and fourth place.
The Lady Wolves entered the divisional a No. 4 seed with an opening game with District 1B No. 1 seed Fairfield. While the Lady Wolves outscored the Eagles in the second and third stanzas, Fairfield led with quarter scores of 19-5 and 18-4 in the first and fourth periods for a 21-point, 57-36 win.
Wolf Point freshman J'ell Garfield led the Lady Wolves with 12 points.
The opening-round loss put the Lady Wolves in the consolation bracket where all games are loser-out.
The first loser-out opponent was Rocky Boy.
The Lady Wolves outlasted the Northern Stars 49-47 in a game with three close quarters and a 16-9 Rocky Boy third quarter.
Mya Fourstar poured in a game-high 22 points for Wolf Point.
The win over Rocky Boy kept Wolf Point alive in the tournament with a big hurdle to clear that could have put the Lady Wolves in the thirdplace game. The winner of that game earns a state tournament berth. The third-place game wasn't meant to be for Wolf Point. For the second time at the divisional, Wolf Point took a loss in a game where the Lady Wolves had led two quarter scores. The tallies were: quarter one, 15-9 Harlem; two, 14-13 Wolf Point; three 21-6 Harlem; and fourth, 17-14 Wolf Point. The final was 63-46 with Harlem winning the loser-out game. For Harlem, beating the Lady Wolves opened the door for the thirdplace contest that ended with a Harlem win over Glasgow and a No. 3 seed at the state tournament.
Fourstar led Wolf Point with 18 points.
"Overall, it was a nice divisional tournament for us. It was nice to get the Rocky Boy win," head coach Brent Nygard said. "It's going to help our young players for next year gaining that experience."
"We played Harlem Saturday morning and played them tough. We just had a tough time rebounding the basketball," Nygard said.
"I was really proud of how these girls competed all weekend," he said.
The Lady Wolves are a young and upcoming team after graduating six seniors in May 2019 that played in the 2019 state tournament. The current roster is about half underclassmen. There are five sophomores. One starter is a freshman and other freshmen have had playing time.
Fairfield 57, Wolf Point 36
Wolf Point 5 14 13 4—36 Fairfield 19 8 12 18—57 Wolf Point: J'ell Garfield 12; Mya Fourstar 8; Hamyanie Campbell 6; Tori Nygard 4; Josie Kolstad 4; Jaylee Azure 2.
Fairfield: Kenna Pitcher 25; Madison Rosenbaum 12; Nat Kolste 7; Cheyenne Maddox 4; Kyler Bake 3; Emma Woods 2; Taylor Simmons 2; Olivia Copenhaver 1; Avery Pitcher 1. Wolf Point 49, Rocky Boy 47
Rocky Boy 11 8 16 12—47 Wolf Point 15 13 9 12—49 Rocky Boy: Jaynah Gopher 16; Kristen La Mere 10; Sasha Coffee 10; Jeralyn Parker 8; J'Leanna Raining Bird 3.
Wolf Point: Kolstad 4; Garfield 9; Campbell 5; Fourstar 22; Nygard 2; Azure 7.
Harlem 63, Wolf Point 46
Wolf Point 9 14 6 17—46 Harlem 15 13 21 14—63 Wolf Point: Fourstar 18; Campbell 9; Garfield 9; Azure 4; Nygard 2; Katelyn MacDonald 2; Kolstad 2.
Harlem: L'Tia Lawrence 22; Kailee Henry 16; Taya Trottier 11; Aria Owens 7; Gabi Bell 6; Taeshon Schaeffer 1.
Northern B Scores Thursday Harlem 66, Choteau 46 Shelby 48, Glasgow 42 Fairfield 57, Wolf Point 36 Malta 56, Rocky Boy 36 Friday
Glasgow 61, Choteau 52 Wolf Point 49, Rocky Boy
47
Shelby 53, Harlem 45 Malta 67, Fairfield 44
Saturday
Harlem 63, Wolf Point 46 Glasgow 45, Fairfield 40 Harlem 67, Glasgow 49, consolation Malta 47, Shelby 38, championship