Posted on
Garfield Competes At State Meet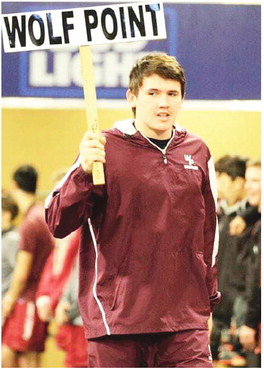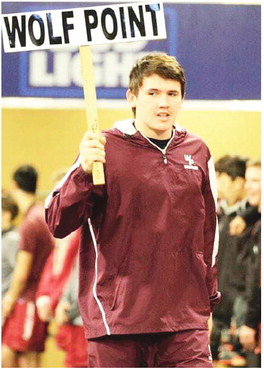 Sophomore Mason Garfield competed as the sole Wolf Point High School state qualifier at the State All-Class Wrestling Meet at the Metra in Billings Friday and Saturday, Feb. 14-15.
Garfield qualified for state at the Eastern B/C Divisional at Huntley Project Feb. 8.
"Garfield had a good solid weekend. He lost to a Fort Benton kid," head coach Scott Vandall said.
"We were up 8-0 and got into a scramble with him and had him on his back. He had got our head in a bad spot, got rolled through and we caught. It's just one of those things that happen at the state meet. There are no easy matches at that level," he said.
"[Garfield] then had a [opponent with a] medical forfeit and advanced to the third round, a senior from Simms who was a No. 1 seed from the north. That was one heck of a match to say the least. We got some revenge from last year and got a 9-8 victory to advance to Saturday," Vandall said.
A blood round match followed with a St. Ignatius senior. Garfield got caught in a scramble in the third period.
"We were right where we wanted to be within sticking distance and got caught scrambling," Vandall said.
"Mason had his goals for the year and then made some more this weekend. He got two out of three. We made state, got to Saturday and missed the final goal of placement," he said. Team scores: Glasgow 154, Huntley Project 134, Eureka 126, Whitehall 117, Circle 102.5, Townsend 84, St. Ignatius/ Charlo 84, Columbus/Absarokee/ Park City 74.5, Cut Bank 66.5, Colstrip 66, Malta/Whitewater 60, Shepherd 57.5, Superior/ Alberton 53, Manhattan 47, Poplar 47, Fairfield 42, Florence/ Carlton 42, Thompson Falls 42, Fort Benton/Big Sandy 36, Anaconda 34, Jefferson 32, Shelby 30, Conrad 28.5, Baker 24, Chinook 22, Simms 18.5, Forsyth 18, Cascade 16, Arlee 14, Chester/Joplin/Inverness 11, Valier 11, Deer Lodge 10, Red Lodge 9, Three Forks 7, Plains/Hot Springs 6, White Sulphur Springs 4, Wolf Point 4, Harlem 3, Highwood 3, Bigfork 0, Great Falls Central 0.