Posted on
Garfield Qualifies For State Wrestling Meet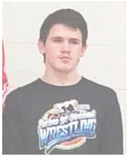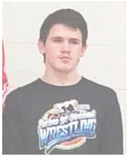 Wolf Point High School sophomore Mason Garfield qualified for the State All-Class meet at the Metra in Billings Friday and Saturday, Feb. 14-15, by finishing in third-place in the 182-pound weight class at the Eastern B/C Divisional at Huntly Project Saturday, Feb. 8.
Garfield went 3-1 at the divisional.
"Mason is finally over a sick bug that had plagued him all year. Mason will compete at the state meet for the first time. We are all pretty stocked. He has put in a lot of effort this year," head coach Scott Vandall said.
"We had a good divisional meet in Huntley," he said.
"Freshman Samantha Reed wrestled the best meet of the year. She went 2-2 on the day. Sam finished the year in good fashion. We are very happy her," Vandall said.
"Sofie [Rasmussen] did good. She went 0-2 on the day. She did good things on the day and on her short year. She is a very coachable young lady. She started over Christmas break and has had to play catchup. We're proud of how hard she works in practice and she is getting better each week," he said.