Posted on
Three Conference Wins Power The Wolves Into Second Place; Indians Outlast Malta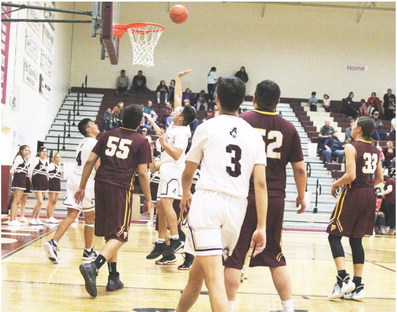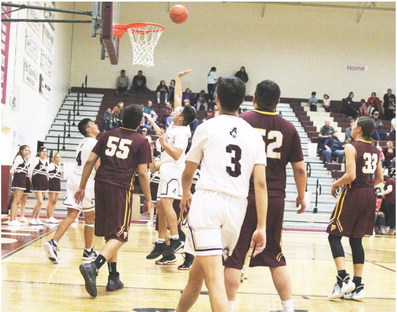 The Wolf Point Wolves basketball team has moved into second place in District 2B with three consecutive conference wins in the Wolves' Den over Glasgow, Poplar and Harlem, the league leader that was previously unbeaten in 2B play.
Coming off a 20-point 65-45 win over the Glasgow Scotties Saturday, Jan. 18, the Wolves continued playing with high intensity, defeating the Poplar Indians 78-54 Friday, Jan. 24, and stunning Harlem with a 58-51 comeback win Saturday, Jan. 25.
The Wolves (4-2, 6-6) have put a slow season start behind them.
Lance St. Germaine posted a game-high 26 points in the Harlem game. He shot six of eight from the free throw line.
Antone Manning pocketed 12 points and Nick Page added 10.
In the Poplar game, St. Germaine poured in 19 points, followed by Tade Wallette with 18, Manning with 14 and Treyton Lilley with 10.
Poplar's Ducette Gourneau and Andrew Azure-Youpee each recorded 14 points.
Poplar outlasted Malta 51-50 in another District 2B game at home Saturday, Jan. 25.
[I'm] "proud of my boys' effort," Wolf Point head coach Troy Blount said. "Our hard work is starting to pay off and the boys are starting to figure it out. We are really starting to gel and at the right time, too."
"Lookout for the Wolves," Blount said.
"We played a good game on both ends of the floor," Poplar head coach Frank "Bosh" Gourneau III said. "It was great team basketball and my players worked hard from start to finish."
"We went down by 16 in the third but chipped away at the lead and ended up pulling out the win [over Malta]," Gourneau said.
"We are slowly fixing things that need to be fixed and starting to improve on both sides of the ball. Our defense was really solid as we played a good physical team. We will continue to work in practice and game by game," he said.
Wolf Point 58, Harlem 51 Harlem 10 11 10 20—51 Wolf Point 19 9 12 18—58 Harlem: Brad Cichosz 29; R.J. Ramone 8; Daniel Lawrence 7; Trent Main 3; J. Longfox 2; Truth Brockie 2.
Wolf Point: St. Germaine 26; Manning 12; Page 10; Lilley 6; James Lien 2; Wallette 2.
Wolf Point 78, Poplar 54 Poplar 11 9 11 23—54 Wolf Point 25 26 13 14—78 Poplar: Dante Boyd 2, Azure-Youpee 14, Wilfred Lambert 4, Inyan Growing Thunder 8, Kayden Lambert 3, Gourneau 14, Dennis Red Eagle 9.
Wolf Point: Michael Goodman 6, Wallette 18, Manning 14, Kraven Silk 2, Page 5, St. Germaine 19, Kaholo Toves 2, Lien 2, Lilley 10.
Poplar 51, Malta 50
Malta 13 15 11 11—50 Poplar 10 10 11 20—51