Posted on
Lady Wolves Come From Behind, Take Care Of Business With Sidney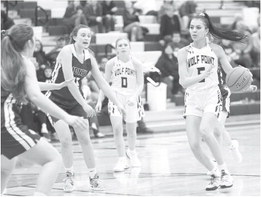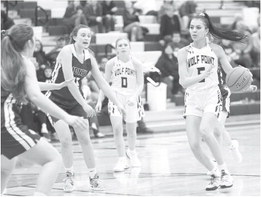 The Lady Wolves overcame a 24-12 halftime deficit playing catchup basketball for a 40-16 second half to pocket a 12-point win over the Class A Sidney's Lady Eagles in the Wolves' Den Monday, Jan. 6.
Josie Kolstad scored the Lady Wolves' sole three points during the first period hitting three for four from the free throw line.
Senior Mya Fourstar poured in a game-high 30 points, after playing scoreless through the first quarter and posting four points in the second stanza. She recorded 12 and 14 points during the third and fourth quarters respectively, including shooting 100 percent from outside the arc posting four trees.
Hamyanie Campbell counted a 3-point goal for Wolf Point.
Maddie Peters led Sidney with 18 points, including two 3-point shots from outside the arc. Wolf Point shot 59 percent from the free throw line.
"We needed that one," Lady Wolves' head coach Brent Nygard said of the comeback win after several early-season losses.
While praising Fourstar's 26-point second-half, Nygard also credited contributions by many of the squad's players.
He said the Lady Wolves have got to play solid through all four quarters in every game.
The Lady Wolves (0-3, 2-5) after the win over Sidney were scheduled to play a pair of non-conference games at Class A Glendive Tuesday, Dec. 7; at Class B Baker Friday, Jan. 10; and at Class C Scobey Monday, Jan. 13.
Wolf Point 52, Sidney 40
Sidney 16 8 10 6—40 Wolf Point 3 9 6 14—52 Sidney: Zoey Morrill 2, Jenna Anderson 2, Peters 18, Sophia Peters 4, Karissa Martinez, 4, Olivia Schoepp 2, Cassidy Larson 4, Ali Merritt 4.
Wolf Point: Kolstad 3, J'ell Garfield 6, Campbell 6, Fourstar 30, Tori Nygard 4, Jodi Houg 2, Jaylee Azure 1.