Posted on
Azure, Young Ask For Feedback From Northside Students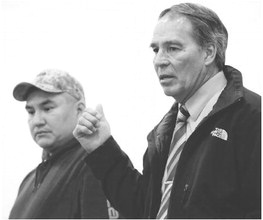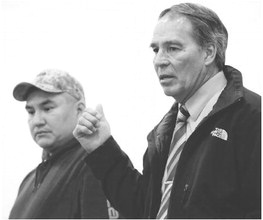 Fort Peck Tribes Executive Board chairman Floyd Azure and newly elected board member Emerson Young spoke to students during an assembly at Wolf Point's Northside Elementary School Thursday, Nov. 14.
The pair came to the school to ask for feedback from area young people.
Azure and Young spoke to around 150 students during the morning assembly.
"I want to help people on the reservation," Azure told students. "I want to help you guys."
During remarks, which lasted approximately 40 minutes, Emerson told the students, "You need an education to go anywhere."
Fourth-grader Kaleigha Laverdure asked the pair, "Can we get recycle bins?"
Young responded that the TEB is currently working on instituting a recycling program to replace the program recently shuttered by the City of Wolf Point.
Sixth-grader Kashlyn Speak Thunder asked about fixing area roads and potholes.
Azure and Young said improvements to roads are part of the tribes' sevenyear development plan, but added that potholes could be dealt with immediately.
At least a dozen students put their thoughts down in writing, with many posing multiple questions. Northside staff said more letters were being compiled and the bulk would be delivered to both the Northern Plains Independent and the full tribal executive board.