Posted on
Wolf Point Captures Second Place At District Tournament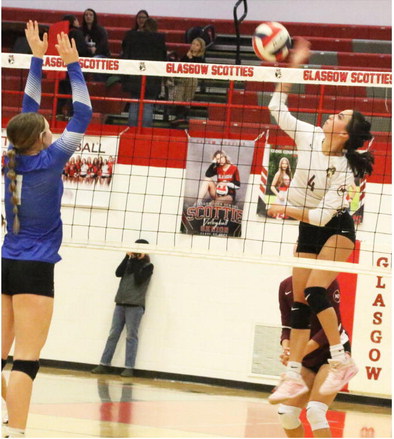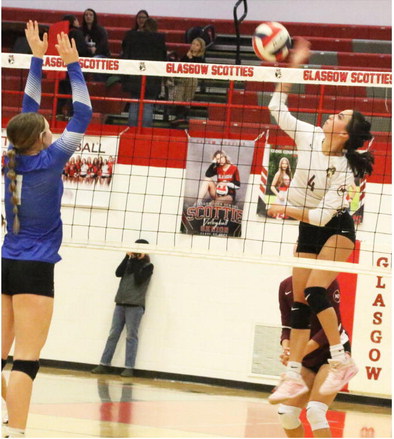 The Wolf Point Wolves came away with second-place honors from the District 2B volleyball tournament held in Glasgow during the weekend.
The Wolves advanced into the championship match by edging Malta by a 24-26, 2515, 25-9, 28-26 final.
After dropping the first set, Wolf Point grabbed a 14-9 lead in the second set on an ace by Kylie Rodenberg, a kill by Keeley Blount-Henderson and a block by Sierra Hamilton. Blocks by Hamilton and Kashlyn Speak Thunder kept the Wolves ahead 16-12.
Gabrielle Fourbear accounted for a pair of kills to increase the margin to 22-15. A tip by Fourbear and two strong serves by Azaleii Ackerman resulted in the 25-15 final.
The net play of Hamilton and serving of Fourbear led Wolf Point to an 8-1 advantage in the third set.
Consecutive spikes by Speak Thunder put Wolf Point ahead by a 15-7 advantage. The Wolves stayed ahead on a spike by Kaleah Miller-Toves and a kill by Blount-Henderson.
An ace by Rodenberg put the margin at a comfortable 22-9.
In the fourth set, the Wolves trailed early but kills by Hamilton and an ace by Miller-Toves tied the score at 19-19.
A kill by Fourbear put Wolf Point up by a 22-20 margin, but Malta fought back to take a 25-24 lead.
With the game even at 26-26, the Wolves accounted for the last two points of the match including a kill by Hamilton.
The Wolves then fell to Fairview, 23-25, 21-25, 20-25, in the championship match.
The first set was even at 1919, but Fairview then gained a 24-20 advantage.
Wolf Point fought back on a kill by Fourbear and two kills by Hamilton to cut the margin to 24-23, but the Warriors scored the set's final point.
Aces by Miller-Toves got the Wolves off to a 6-3 lead in the second set. Hamilton scored a couple of kills to keep the Wolves ahead by a 12-8 margin.
After Fairview moved ahead, a block by Blount-Henderson and a kill by Fourbear produced a 17-17 deadlock.
Kills by Hamilton and Fourbear kept Wolf Point in the set at 20-20, but Fairview then struck for four straight points. A tip by Hamilton cut the gap to 24-21 before Fairview scored the winning point.
In the third set, the Wolves trailed early but a block by Blount-Henderson was good for a 17-17 deadlock. The Wolves gained a 20-19 lead on a serve by Miller-Toves.
The Warriors scored the last six points of the match including three on aces.
Wolf Point will meet Shelby at 3:15 p.m. on Thursday, Nov. 2, at the divisional tournament in Malta.