Posted on
Red Hawks Score Win Over Bainville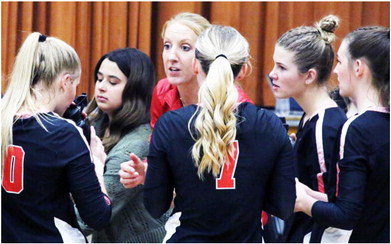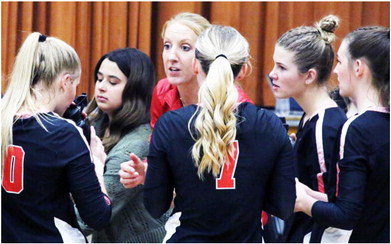 Froid/Lake played an inspired match and downed Bainville, 25-11, 7-25, 25-21, 2515, at the District 1C volleyball tournament on Thursday, Oct. 26.
The Red Hawks jumped out to a 19-8 lead and then increased the margin to 22-9 on kills by Brooklyn Nordwick and Mara Salvevold.
Bainville fought back to 22-11 on a block by Brecklyn Pippenger and kill by Elsie Wilson, but the Red Hawks struck for the final three points on kills by Salvevold, Isabelle Nordwick and Jaeleigh Davidson. In the second set, Bainville used the net play of B. Pippenger and Miah Pippenger to gain a 13-4 lead. A block and kill by Wilson increased the gap to 17-5.
Hailey Berwick scored two kills for a 21-5 lead en route to the 21-7 win in the second set.
A kill by Jaeleigh Davidson put the Red Hawks up by an 18-14 margin in the third set. After a kill by B. Pippenger, Froid/Lake took a 19-15 advantage on a spike by B. Nordwick.
The Bulldogs tied the score at 19-19 on kills by Wilson and Berwick, but a kill by Salvevold and block by B. Nordwick put Froid/Lake back in the lead.
A kill by I. Nordwick led the way to a 25-21 victory, The Red Hawks accounted for the first five points of the fourth set.
After Bainville tied the score, the Red Hawks responded with a tip by Davison and kills by I. Nordwick and Lily Johnson for an 11-7 lead.
A pair of aces by Davidson and kills by Salvevold put Froid/Lake ahead by an 18-7 lead. The net play by I. Nordwick and Salvevold down the stretch resulted in the 25-15 final.