Posted on
Red Hawks Prepare For Football Playoff Run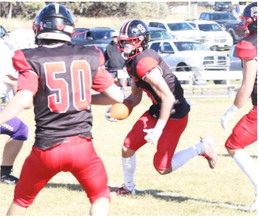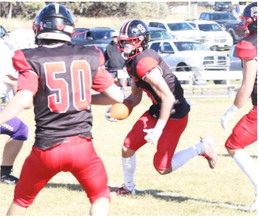 The Froid/Lake Red Hawks tuned up for the playoffs with a 66-24 senior night football victory over Terry on Saturday, Oct 21.
Froid/Lake will host Shields Valley in the first round of the playoffs at 1 p.m. on Saturday, Oct. 28.
Shields Valley is the third seed from the Southern C. The Rebels have a 6-2 record including losses against Bridger, 55-29, and Custer/ Hysham/Melstone, 58-6.
If the Red Hawks defeat Shiels Valley, they will play the winner of the Chester/Joplin/ Inverness and Denton/ Geyser/Stanford/Geraldine game.
Other first-round contests feature Bridger facing Harlowton/ Ryegate/Judith Gap, Hot Springs meeting Valier, Centerville playing Power/ Dutton/Brady, West Yellowstone meeting Savage, Big Sandy facing MonDak and Custer/Hysham/Melstone playing Lincoln.
Froid/Lake dominated action against Terry as the Red Hawks rolled to a 52-0 advantage in the first half of action on Saturday.
After both teams' offenses struggled early, the Red Hawks got on the scoreboard when speedy Daniel Forizs returned a punt 45 yards for a touchdown with 4:46 left in the opening quarter.
The Red Hawks were soon back in scoring range when Jacob Martensen recovered a fumble at the Terry 17. Froid/ Lake scored on a 17-yard throw from Mason Dethman to Nate Stentoft. Dethman kicked the conversion for a 14-0 lead with three minutes left in the period.
On Terry's next possession, a fake punt attempt failed when Stentoft knocked down the pass attempt. Dethman then raced in for a 14-yard touchdown run and 20-0 advantage.
The Terriers soon faced a third-and-17 situation due to strong defensive plays by Dethman and Martensen. Dethman then intercepted a pass and went 19 yards for another touchdown. The senior's kick increased the gap to 28-0 with 11 seconds left in the quarter.
A few seconds later, Terry's quarterback lost the ball due to pressure from Stentoft. Martensen made the recovery and went eight yards to end the first quarter at 36-0.
Froid/Lake struck next on a 57-yard dash by Forizs with 6:15 left in the half. Dethman's kick was good for a 44-0 advantage.
Another long run accounted for the Red Hawks' next touchdown as Cody Olson raced 60 yards for a score with 1:48 left in the half. Dethman's kick put the margin at 52-0.
Each team scored a touchdown in the third quarter. Scoring for the Red Hawks was Solomon Grainger on a 52-yard pass from Joseph Robertson. Terry's touchdown came on a 24-yard pass from Tucker Todd to Liam Jackson.
Froid/Lake's Landen Kelm scored on a 38-yard run for the team's final touchdown.
Scoring touchdowns for Terry in the fourth period were Landen Schilling on a four-yard run and Logan Murr on a 13-yard pass from Ethan Boyer.