Posted on
Friesen's Brings Joys To Local Residents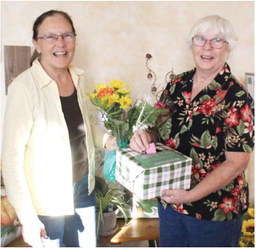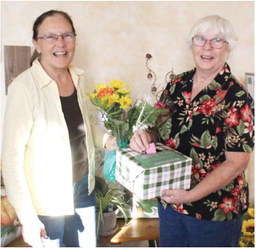 Friesen's Floral and Greenhouse was in the business of bringing cheer to several area residents last week.
On Wednesday, Oct. 18, owners Mary Buckles and Cathryn Wylie conducted a drawing of 15 names based on individuals who came to the flower shop and signed up for a chance to win. Each of the individuals were notified that they won two flower bouquets of roses and daisies. Those winners were encouraged to "keep one, share one."
"We know the joy of giving flowers and this is our way to give others the joy of receiving and giving," Wylie said.
They note that flowers spread joy, bring smiles and brighten lives.
The random act of kindness effort called "Petal It Forward" and organized by the Society of American Florists, of which Friesen's is a member, is designed to help people start their day with more smiles and less stress.
The original idea behind "Petal It Forward," which started in 2015, came after looking at statistics that showed while 80 percent of people reported receiving flowers makes them happy, even more (88 percent) said the giving flowers make them happy.
Buckles explained that Friesen's want to be part of the mood-boosting effort, and make a difference in the community. Having been in the business for 50 years, they know the power of giving and receiving flowers.