Posted on
Senior Profile Lyon Finds Culbertson Welcoming Place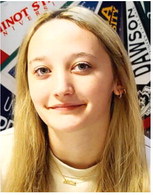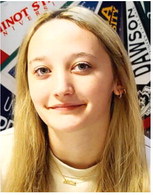 Culbertson High School senior Summer Lyon is feeling at home in eastern Montana.
Lyon has been attending school in Culbertson since her freshman year, but prior to that she lived in various places including Washington state, Miles City, Sidney and Dickinson, N.D.
"I like the people here," Lyon said.
Her involvement at the school has included being a cheerleader for four years.
"I like the bonding with my team," Lyon said of why she enjoys being a cheerleader.
As a member of Explore America, she is looking forward to the group's trip to New York, Boston and Washington, D.C. "I'm super excited to see New York," Lyon said. "I've always wanted to go there."
She's looking forward to watching a Broadway show.
Last spring, she attended the IGNITE Jobs For Montana Graduates conference held in Helena. She was a finalist for employment preparation.
Out of school, Lyon serves as a certified nursing assistant at the hospital in Culbertson.
"I love working there," she said. "I like bonding with the staff and residents."
Her favorite classes are government and English. She says government is interesting and the English class is fun.
As far as her favorite teacher, she answered, "I have too many to name."
After high school, she plans to attend college and study something in the healthcare field.