Posted on
Poplar Drops Homecoming Football Game Against Plentywood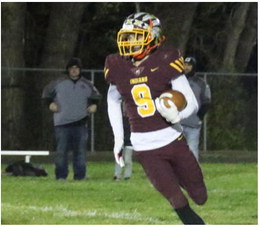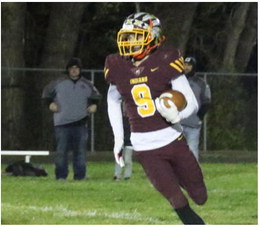 Poplar's football squad came up short in its homecoming game against Plentywood by a 66-12 final on Friday, Oct. 5.
The visiting Wildcats opened the game by driving from their own 15 to deep inside Poplar territory, but the threat ended on an interception by Kameron Reum.
Plentywood then tackled a Poplar ballcarrier in the end zone for a safety. The Wildcats went on to score on an 18-yard run by Ben Hagan for an 8-0 advantage with 6:36 left in the first quarter.
Plentywood's defense recovered a fumble at the Poplar 20 on the Indians' next possession. After a solid defensive play by Reum on first down, the Wildcats moved the ball to the 10 on a pass play from Noah Murray to Carson Solberg.
Murray used a quarterback keeper run to put Plentywood up 14-0 with 4:28 remaining in the period.
Poplar responded with a big play on the offensive end when William Youngman connected with Adrian Matuck for a 49-yard touchdown. Matuck, a senior, made the catch at the Plentywood 38 and then broke loose for the score with 4:13 left in the period.
Plentywood's final touchdown of the opening quarter came on a screen pass play covering 14 yards from Murray to Hagan. The Wildcats increased their lead to 22-6 when Hagan ran in the twopoint conversion.
The hard running of Gage Berg and Reum led the Indians into Plentywood territory, but the possession ended with a fumble.
Plentywood opened the second quarter with a 39yard pass play from Murray to Aiden Nelson. Hagan then dashed the distance for a touchdown to put the Wildcats ahead 28-6.
The Indians came back with a 53-yard scoring drive as Reum and Youngman each had long runs. A 10-yard pass from Youngman to Reum produced a first down at the Plentywood four. From there, Berg scored on a draw play with 7:01 remaining in the half.
Plentywood accounted for the final 16 points of the second quarter for a 44-12 advantage at intermission.
The Wildcats held a 58-12 lead after three quarters of play.
Poplar will close out its football season at Culbertson on Thursday, Oct. 12.