Posted on
Optimist Club Holds Installation Banquet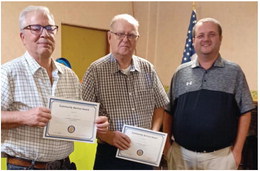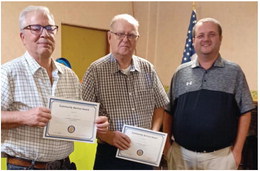 The Optimist Club of Wolf Point held its annual installation banquet Saturday, Sept. 30. The banquet is held annually near the end of September or early October to install the club's new president and officers for the upcoming term. This year, Larry Neutgens was installed as 20232024 president and co-hosted the banquet with 2022-2023 president A.J. Allen.
Allen presented several awards during the banquet. New members that joined in the past year were inducted and current members that were new member sponsors were recognized for their efforts. Increasing club membership will continue to be one of the club's goals moving forward.
Club members were also recognized for their years of service to the Optimist Club. A moment was taken to recognize Carol and Larry Neutgens who were original charter members of the club.
Finally, Allen presented two community service awards. The first Community Service Award recipient was Dennis Nelson. Allen said, "I felt it was important to recognize Dennis' work with the pop can recycling project." This project has been a major community service project for the club and is starting to expand to the schools. "Dennis has several people helping him, whether it's getting pop cans to him, helping him crush the cans before he takes them to the nearest recycling center in Sidney," added Allen.
The second Community Service Award recipient was Larry Neutgens. Allen said, "Larry spent a lot of time this past year designing and building a memorial bench in honor of longtime member Elsie Hanson. The bench will be a way for the club to remember her and will be located by the Wolf Point Fire Hall entrance door in the near future.
With several projects upcoming such as Halloweenie, Christmas Bazaar and Angel Tree, there are several ways to contribute with this club.
If interested in more information about the Optimist Club or are interested in joining, visit its Facebook page, Optimist Club of Wolf Point.