Posted on
Lady Wolves Take Over First Place With Win Over Scotties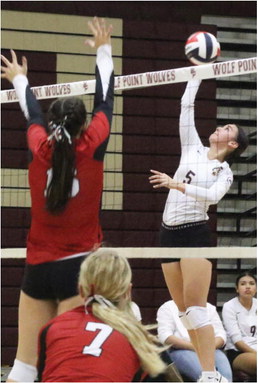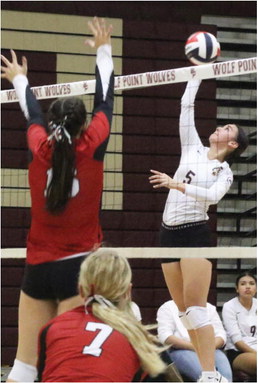 With first place in District 2B on the line, the Wolf Point Lady Wolves came from behind to beat Glasgow on Thursday, Sept. 21.
Wolf Point scored the home victory by a 27-25, 2729, 23-25, 25-12, 15-9, final.
Down by a 2-1 set margin after dropping a tough third set, the Wolves displayed great character by coming out strong in the fourth set. The hitting of Sierra Hamilton and Gabrielle Fourbear led to a 4-1 lead. A block by Kashlyn Speak Thunder increased the gap to 5-1.
After Glasgow pulled to 8-5, the Wolves ran off eight straight points including three aces by Azalei Ackerman. Keeley Blount-Henderson and Hamilton scored kills during the streak.
A kill by Blount-Henderson and an ace by Kylie Rodenberg put the Wolves ahead 18-7.
The Wolves extended the margin to 22-9 on a kill by Kaleah Miller-Toves, a tip by Fourbear and an ace by Hamilton.
The Scotties fought back to 23-12 on net plays by Hayden Green, Gina Page and Joely Chappell, but the Wolves ended the set on a kill by Speak Thunder and a block by Fourbear.
In the fifth and deciding set, the Wolves gained a 6-5 advantage on blocks by Speak Thunder and Rodenberg.
After a kill by Blount-Henderson put the margin at 9-6, Glasgow cut the gap to 9-8 on a kill by Chappell and an ace by Green.
The Wolves responded with a block by Blount-Henderson and two aces by Rodenberg for a 12-8. A tip by Miller-Toves put the margin at 13-8.
Glasgow's Halle Hunter scored a kill, but the Wolf Point posted the final two points including one on Hamilton's service for the 15-9 victory.
The first set of the match was a back-and-forth affair with the Wolves grabbing a 19-17 lead on a pair of kills by Blount-Henderson. A kill by Rodenberg put Wolf Point ahead 20-18.
Glasgow, however, grabbed a 24-23 advantage. Wolf Point responded with a kill by Miller- Toves and an ace by Hamilton.
A kill by Glasgow's Green tied the score at 25-25, but the Wolves struck for the final two points of the first set includine one on a serve by Speak Thunder.
The win improved Wolf Point's conference record to 5-0.