Posted on
Hamilton's Favorite Activities Include Running, Music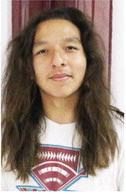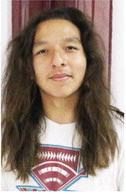 Many Wolf Point residents might see Trenton Hamilton running through the streets to get in condition for cross country and track seasons.
Hamilton, a senior, is a member of both squads and a leader in the programs.
"It keeps me in shape," Hamilton said of running on Wolf Point's cross country team.
This is his second year in cross-country. He has a goal of breaking the 20-minute barrier. His best time so far is 21:54.
Often, Hamilton can be seen conditioning with Wolf Point standout runner Peyton Summers.
"He's pretty far ahead of the curve for sure," Hamilton said of his friend. "I've known him since Southside."
During track season, Hamilton competes in the 1600-meter run and 3200-meter run. His favorite race is the 1600.
"It's shorter so I don't have to worry about saving energy," Hamilton said.
His goals for the track season are to set personal records and to qualify for the state meet.
Outside of school, one of his hobbies is playing with the band After Midnight. He plays the bass guitar and a little bit of piano.
His role models are the 1980s bands, especially Metallica.
His favorite classes are cardio/ weight lifting, wood shop and band.
As far as his favorite teacher, "They are all kind of cool," Hamilton said.
After high school, his goal is to find a music-related job.