Posted on
Bainville Knocks Off Frazer Squad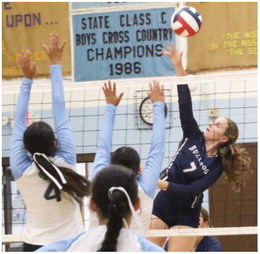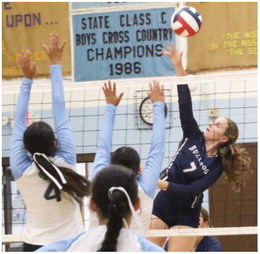 The Bainville Bulldogs defeated Frazer by a 25-13, 25-5, 25-8, final in league volleyball action on Monday, Sept. 18.
After the serving of Elsie Wilson and net play of Lila Butikofer led the Bulldogs to a quick 4-0 lead in the opening set, Frazer gained a 5-4 advantage on three aces by Audrey Smoker.
Hailey Berwick served three straight aces to put the Bulldogs up by a 10-5 margin. Kills by Butikofer and Kendra Romo along with an ace by Kaelyn Romo increased the gap to 14-6.
After net plays by Butikofer and Miah Pippenger gave Bainville a 16-8 advantage, Frazer was able to fight back to 19-13 on the serving of Shakira Beston and a tip by Maci Fourstar-Sibley.
With the score at 19-13, the Bulldogs ran off the final six points of the set as Berwick scored three kills and a block.
Kills by Kaelyn Romo and M. Pippenger and aces by Berwick highlighted play as the Bulldogs gained an 11-2 lead in the second set.
The serving of Addison Hansen led the Bulldogs to the last 12 points of the second set.
The Bulldogs then posted a 25-8 victory in the third set.
Wilson finished the match with nine aces, four kills and four digs.
Berwick scored five aces, six digs and eight kills.
Kendra Romo accounted for 14 assists.