Posted on
Cowboys Stop Scobey, 16-8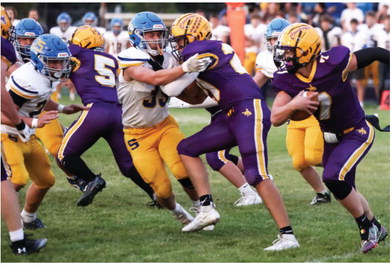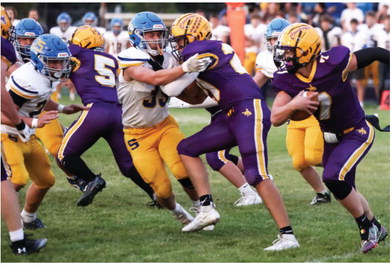 Culbertson's defense stood strong as the Cowboys stopped Scobey, 16-8, in Class C football action on Thursday, Sept. 14.
The hometown Cowboys struck first in the league game after Reese Moon intercepted a pass to end Scobey's first possession. A 28-yard dash by Moon earned Culbertson a first down at the Scobey 16.
After Bridger Salvevold gained 14 yards to the two, Salvevold scored on the next play.
Salvevold passed to Mark Kirkaldie for the two-point conversion.
Scobey responded with a 54-yard scoring drive to tied the game, 8-8, with 1:39 remaining in the opening quarter.
The game was still deadlocked at 8-8 at the half, but the Spartans drove deep inside Culbertson territory in the third quarter. Scobey picked up a first down at the seven on a fourth-down run.
After outstanding defensive plays by Brooks Solem and Kirkaldie forced Scobey into a third-and-12 situation, B. Solem intercepted a pass in the end zone to end the threat.
A 14-yard pass from Moon to Salvevold followed by a nice run by the quarterback put the ball near midfield to finish the third quarter. Runs by Moon and Salvevold earned the Cowboys first downs and moved the ball inside the 10.
On third down from the five, Moon scored to put the Cowboys in the lead. Salvevold ran in the conversion for a 16-8 advantage.
Scobey's next possession was stopped on defensive plays by Nyreece Halvorson, Kirkaldie and Gavin Deen.
The Spartans drove inside the Culbertson 30 late in the fourth quarter, but Moon intercepted a pass to put the contest away.
Micah Eagleboy led the Cowboys with 22 tackles.
The Cowboys will host Plentywood for homecoming at 7 p.m. on Saturday, Sept. 23.