Posted on
Wolves Play Strong Second Half But Fall To Fairfield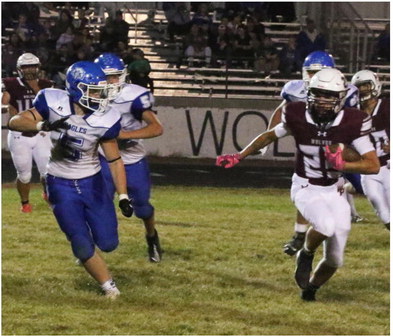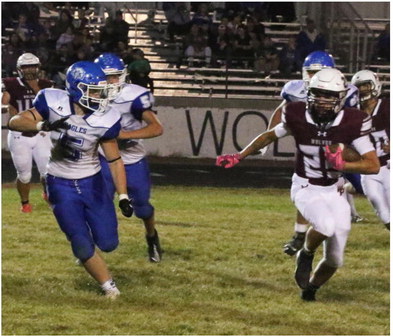 Wolf Point's football squad accounted for an outstanding effort in the second half, but the Wolves fell at home against Fairfield by a 26-14 final on Friday, Sept. 8.
The Wolves trailed by an 18-0 margin. Fairfield's firsthalf touchdowns came on a one-yard run by Banner Mc-Coy, a 52-yard fumble recovery by McCoy and a 37-yard pass play from Israel Perez to Allen Myles. It took strong defensive plays from Wolf Point's defense to keep the margin at 18 points, those plays included a fourth-down sack by Lennox Lilley near midfield.
The game's momentum started to swing Wolf Point's way early in the second half when a bad snap on a punt attempt was recovered at the Fairfield 28. A nice outside dash by Maddox Reum produced a first down at the 16. Facing a third down at the nine, Wolf Point reached the end zone when quarterback Michael Bell hit Reum with a screen pass, and the tailback ran in with 7:43 left in the third quarter.
Wolf Point's defense, led by Charles Page and Lilley, kept the Eagles in check on their next two possessions, but Fairfield stepped up with a big play when Porter Hatch intercepted a pass and returned the ball to the Wolf Point 21. On first down, Hatch connected with Kieran Dalton on a touchdown pass for a 24-6 margin with 2:07 left in the period.
The Wolves kept battling and created a turnover when Lilley recovered a fumble at the Fairfield nine. After runs by Page and Bell moved the ball to the three, Bell scored with 10:24 remaining in the contest. Bell also ran in the two-point conversion to cut the margin to 24-14.
Wolf Point started its next possession on its own 27 and advanced to midfield on two catches by Preston Swenson. The Wolves got as far as the Fairfield 34 before turning the ball over on downs.
Wolf Point's defense stopped Fairfield, but a punt by the Eagles pinned the Wolves on their own three. On first down, Fairfield's Blake Pearson sacked Bell for a safety to put the margin at 26-14 with 3:04 remaining.
The Eagles received the ball after the safety and were able to run out the clock.
Leading Wolf Point's rushing attack were Bell with 46 yards and Page with 37 yards.
Swenson finished with four receptions for 47 yards.
The Wolves will return to action at home against Shepherd at 7 p.m. on Friday, Sept. 15.