Posted on
Republican Senate Candidate Makes Stops In County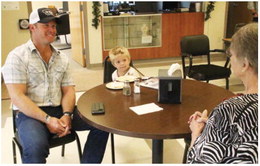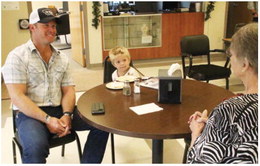 Promoting family values, U.S. Senate candidate Tim Sheehy made campaign stops in Wolf Point and Culbertson on Tuesday, Aug. 29.
The Republican's visit through eastern Montana included trips to Roundup, Winnett, Jordan, Glasgow, Wolf Point, Culbertson, Sidney, Terry and Miles City.
After an audience member mentioned the drug problem in the Wolf Point area, Sheehy said, "They are tearing apart reservations and the state."
The U.S. Navy SEAL said the nuclear family is the best form of government. He noted that 80 percent of males in jail didn't have an active father.
He said youth in this country place more allegiance to their phones than the church or families.
He feels another problem is the federal government trying to dictate what is taught in schools.
Sheehy wants children to be proud of their country and treasure the rights, including voting rights, that they have.
He supports energy independence, Second Amendment rights and increased border security.
He founded Little Belt Cattle Company where he and a fellow Navy SEAL raise, finish and process premium beef in Montana. Sheehy also founded an aerial firefighting company.