Posted on
Rodenberg Keeps Busy In Clubs, Athletics At High School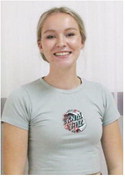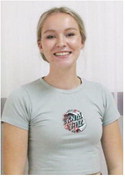 Active is a good way to describe Wolf Point High School senior Kylie Rodenberg.
She has served as her class president for each of the last three years. In addition, she has been a member of the student council every high school year and is currently the vice president. She is also involved in National Honor Society and Pep Club, As far as high school athletics, Rodenberg is a threesport athlete. She adds softball to her activities in the summer.
"It's a lot more fun in high school if you're active," Rodenberg explained.
Her duties as class president include planning prom and dances, conducting meetings and making sure seniors have concession shifts covered. She and classmate Kaylee Johnson will work together to play homecoming activities.
Rodenberg says her favorite sport is volleyball as she returns as a starter.
"It's a team sport," she said of volleyball. "When you're playing, it's neat to have people that you have to trust."
As Wolf Point's setter, she plays a key role in the Wolves' success.
"All the hitters like the ball in certain spots," Rodenberg said. "You have to adjust your sets."
She also enjoys racing in the 100-meter hurdles during track season.
"I like the competition in track," the honor roll student said.
As far as the classroom, she likes most of her classes. Her favorite teacher is Karli McGowan.
"She helps me a lot in math and she's my coach so I talk to her a lot," Rodenberg said.
The senior's role models are her parents, Craig and Kari. Kylie strides to be as good of an athlete as her dad was during his sports career. "My mom is always pushing me to get good grades," she added.
Rodenberg plans to study business in college and then attend cosmetology school. Her goal is to own her own salon.
"I've always like doing hair. It's something that I enjoy," Rodenberg said. "You should do something that you like doing."