Posted on
Lustre Works To Move Up In Volleyball Standings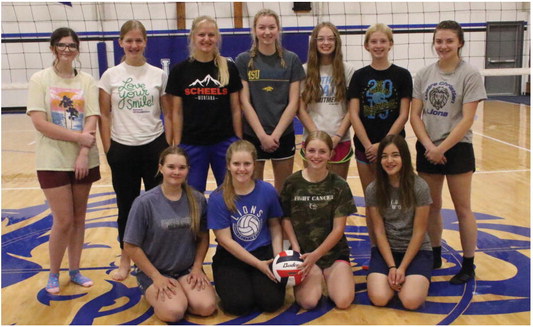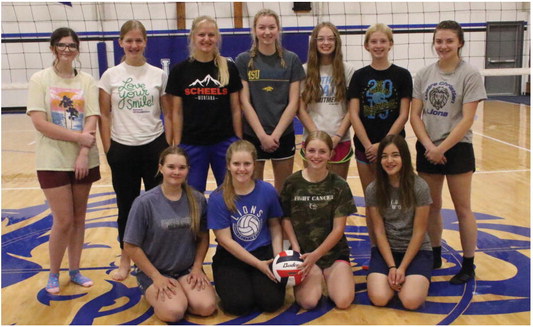 The Lustre Lions are aiming for positive results with the return of six starters this volleyball season.
Starters back for the Lions include Grace Brown, Alexa Reddig, Aubri Holzrichter, Sarah Dahl, Jaden Gibson and Hannah Brown.
The Lions' squad consists of 11 players including five seniors, four juniors, a sophomore and a freshman.
"It's been fun," Coach Mary Zerbe said of working with the girls. "They are moving up the ladder. They have grown a lot and will keep going."
Seniors for the Lions are Reddig, Grace Brown, Aubri Holzrichter, Cassidy Grider and Dahl.
Juniors are Hannah Marasco, Abby Olfert, Gibson and Anna Teichroew.
Rounding out the squad are sophomore Hannah Brown and freshman Lauren Holzrichter.
Zerbe said the team's strength is working together.
"The best potlucks are when each person brings something to the table," the coach noted.
A goal for the Lions is to finish strong. Kaitlyn Brown is the team's assistant coach.
Pre-season favorites in the league include North Country and Plentywood.
Lustre Volleyball
Aug. 26: at Culbertson Invitational Sept. 1: at Scobey Sept. 2: Glasgow JVs Sept. 7: at MonDak Sept. 8: Plentywood Sept. 9: at Scobey Invitational Sept. 14: at Frazer Sept. 16: at Culbertson Sept. 19: Wolf Point JVs Sept. 21: Froid/Lake Sept. 22: Brockton Sept. 30: Richey/ Lambert Oct. 6: at Bainville Oct. 7: at North Country Oct. 10: at Wolf Point JVs Oct. 14: Nashua Oct. 17: Scobey Oct. 26-28: District (Plentywood) Nov. 2-4: Divisional (Sidney) Nov. 9-11: State (Bozeman)