Posted on
Montana Rez Bred Gains Interest in Area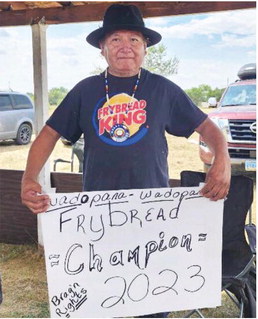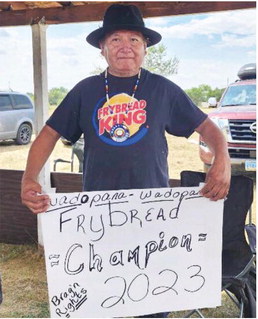 Montana Rez Bred, formed by local residents Frances Weeks and Tracy Rider, become registered with the State of Montana earlier this year.
The local frybread frying women collaborated with a non-profit company in Ronan to write a business plan for manufacturing and packaging a dry frybread mix in one-pound packages. Since Rider returned to the area, the women have been selling frybread and pacos to raise funds for what they need as start-up costs.
They opened a Facebook page May 1. The frybread king, Anson Red Starr, Oglala Sioux from Pine Ridge, S.D., and an old classmate from Chemawa Indian School located in Salem, Ore., sent a frybread challenge to Montana Rez Bred via Facebook. The challenge was accepted.
Red Starr and his family, Grace Ann Byrd and Baby Rena, traveled from Nesqually, Wash., on a Sunday morning. He was up early preparing for the taste off of frybreads. Montana Rez Bred announced the challenge and encouraged other frybread makers to participate during the Wadopana Celebration.
Committee member Julie Christian was contacted and gave approval for the spoon keepers stand to set up tables and have the frybread tasteoff. Four contestants participated: Montana Rez Bred, The Frybread King, Buck Turcuotte and Wilma Pretty Shield. People were allowed to try each piece and vote for their favorite. The Frybread King received the popular vote.
Montana Rez Bred has decided to sponsor next year's frybread taste-off around the same time. They are open to ideas on how to organize for next year. If anyone is interested in helping, they can through Montana Rez Bred's Facebook page. They will be holding fundraisers toward next year to have a cash prize for different categories.
Montana Rez Bred expressed appreciation to the Frybread King and family for traveling all the way to bring a fun event to the community.