Posted on
4-H Honors Petersen, Tractor Supply Company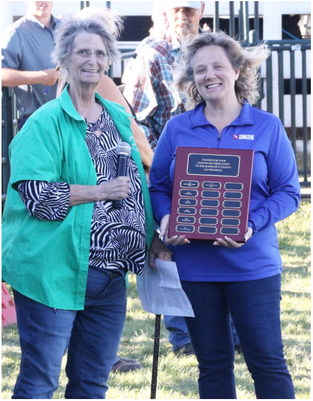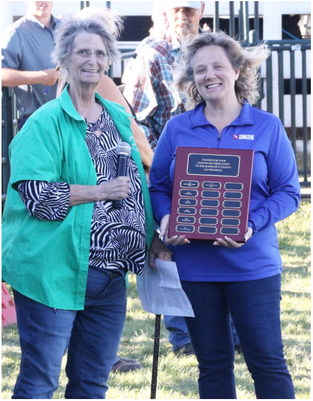 Roosevelt County 4-H added two new members to its wall of fame on Friday, Aug. 11.
Honored prior to the livestock sale at the Roosevelt County Fair were Clay Petersen of Culbertson and the Tractor Supply Company of Sidney.
Petersen has been involved with the Roosevelt County 4-H program for a short time, but he has been working behind the scenes by assisting with maintenance at the fair for many years. He has ordered parts and fixed lawn motors, secured doors and locks, temporarily repaired roofs and even returned a rented stage after the 4-H families and community enjoyed an evening of live music.
Petersen has assisted the 4-H office with setting up and taking down the weigh-in scale at the fairgrounds, has moved snow in January so 4-H families can get their trailers with steers into and out of the winter weigh-in, and then sticks around and lends a hand with gates, unloading and loading the steers.
He has always been ready to help and guide the children and now grandchildren with their 4-H projects. He has been the go-to person for 4-H when help is needed.
The 4-H Council recognized him for his commitment of area youth.
Tractor Supply began a partnership with 4-H in 2010. The company's customers could purchase a paper clover, the emblem of 4-H, as a donation during checkout that directly benefits 4-H. Ninety percent of those funds go to the state the clover was purchased in and the other 10 percent to national 4-H programs. Tractor Supply has been a source of quality feeds for 4-H animals to grow, become fit and finished products for buyers at the fair.
Tractor Supply has supported 4-H members, leaders and parents by providing coupons to purchase items to support 4-H projects such as tack that is needed to properly groom their 4-H animal for judging. The company has donated bedding (wood shavings) for fair animals, T-shirts and buckets. Local TSCs work with the 4-H agent to sponsor on-site learning workshops to teach students about animal nutrition and showmanship.
The 4-H Council thanked Tractor Supply for its commitment to area youth.