Posted on
Wild Sky Farms Dispensary To Open In Poplar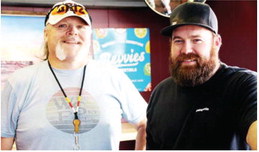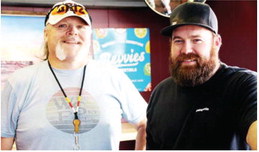 Glasgow's Wild Sky Farms dispensary is expanding to Poplar. The group of local farmers and ranchers from northeastern Montana opened a 4,000 square foot cannabis grow facility in 2020 in Valley County. Now, they are looking east.
Co-owner Brandon Hoerner told the Northern Plains Independent that the group is hoping to fill an unmet need on the Fort Peck Indian Reservation.
"The community needs it," he said, pointing out that the closest cannabis dispensaries for medical and recreational patients are in Culbertson and Wolf Point, at least 20 minutes away on the highway. Hoerner and store supervisor Donnie Moran said their remodeling efforts on Second Avenue next to Fort Peck Video are moving very quickly toward an Aug. 1 opening date.
"We put most of this up in a month," Hoerner said. Hoerner said Moran, Mitch Mcintyre and other staff helped make the move possible.
Limits on the number of dispensaries are being considered in Wolf Point and other municipalities, but WSF will be the only point of sale in Poplar for the time being.
Hoerner said soft opening activities are being planned in coming weeks.
Staff is being sought for the Poplar store and a planned location near the North Dakota state line.
Wild Sky Farms in Poplar is located at 200 Second Ave. W.
For more information, visit montanawildskyfarms.com or check them out on social media. The direct store line is 406-768-5533. WSF in Glasgow is located at 54336 U.S. Highway 2.