Posted on
Cullen Meland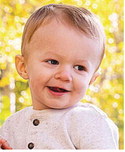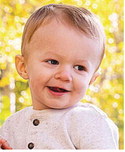 Cullen James Meland died tragically on Thursday, July 6, 2023, at the age of 2 in Fort Peck.
He would've been celebrating his second birthday the following Thursday, July 13.
He was born to Braden and Bethany Meland on Tuesday, July 13, 2021. He had recently traveled down to Denver, Colo., to welcome his baby sister Macie Lynn Meland on June 19, 2023.
He loved playing outside with chalk and bubbles. He enjoyed riding on the 4-wheeler and side-by-side with his dad and "Papa." He also loved to snuggle up with his blanket (his night-night) right next to mom to watch Winnie the Pooh, Toy Story
or Monsters Inc. He loved his baby sister and was so excited to meet her that he picked out a special stuffed animal. He was so eager to give 'his baby' her gift.
Anyone who met him saw his sweet smile. He may have been shy at first, but you left having a new friend who