Posted on
FPST's Matilda Stars Yoakam, Turner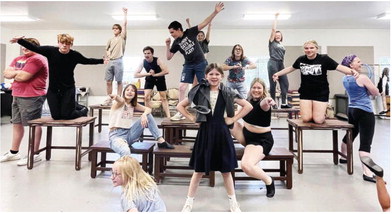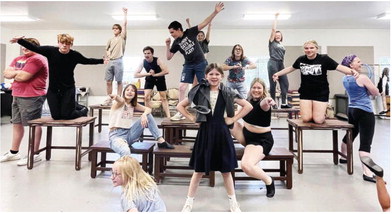 Fort Peck Summer Theatre's Matilda saw opening night this past weekend. The musical is the winner of nearly 50 international awards and is based on the beloved novel by Roald Dahl ( Willy Wonka).
McKay Yoakam stars as Matilda, alongside area performers Gwen Turner (as Lavender), Ian Anderson, Ava Budde, Joel Guttenberg, Arrow Henry, Henry Holte, Anna Matejovsky, Kinley Overbey, Sabra Sims, Harper Wesen, Isla Belakjon, MacKenzie Bigelbach, Bryten Avery Clark, Codi Donniaquo, Eva Hlad, McKitterick Markle, Caith Overbey, Lyndsey Plummer, Fallon Pinder, Tommi Prewett, Gabriel Proctor, Mylee Rasmusan, Jayli Roller, Aubry Salvevold, Annika Smith, Willow Sugg, Chase Tarum and Tanner White. Glasgow's Alexa Etchart plays Miss Honey. Culbertson's Felixe Becker shines in the role of Bruce, the cake-eating classmate of Matilda. The show is directed by Joseph Martinez with co-musical directors Alicia Bullock-Muth and Luree Chappell-Green.
Chappell-Green told the Northern Plains Independent,
"Our Matilda is one of the youngest kids in the cast and is already a pro! I got to work with her ahead of rehearsals and she was the highlight of my day. The rest of the kids were a joy and all worked together so well to bring this magical world to life. I have never seen a mid-show standing ovation until opening night. And they deserved it after their rendition of Revolting Children. I was so proud and humbled and impressed to see kids and adults bring that sort of energy and professionalism to our stage. Even when a mistake is made like a missed cue or flubbed line, they always land on their feet. I've been gushing over all of the performances since rehearsals started three weeks ago."
Matilda runs through July 23 on Fridays and Saturdays at 7:30 p.m. and Sundays at 4 p.m.
For tickets and information, call 406-526-9943 or visit fortpecktheatre.org.