Posted on
Yellow Jackets Place Second At Softball Tournament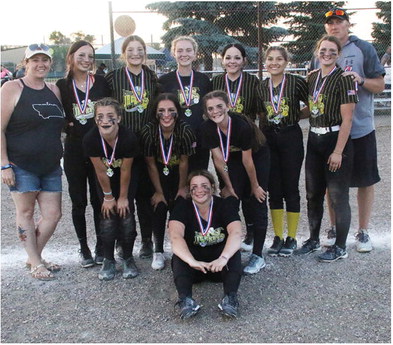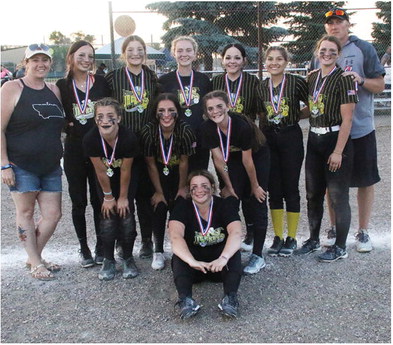 The Wolf Point Yellow Jackets came away with the second-place honor at the major league softball tournament held in Culbertson on Monday, June 26.
Wolf Point opened the tournament by downing Scobey, but then fell to Bainville in the second round.
The Yellow Jackets responded with a 17-5 victory over Froid in the next round.
Wolf Point gained a 7-0 lead in the first inning and a 10-0 advantage in the second inning.
Froid fought back with five runs, but the Yellow Jackets then ended the contest.
Wolf Point earned a 1312 hard-fought victory over Plentywood in the next round.
With the game even at 1212 heading into the bottom of the fifth, Wolf Point accounted for the winning run when Kylie Rodenberg walked, stole two bases and crossed the plate on a passed ball.
Wolf Point trailed early in the contest, but seven runs in the third produced a 9-4 lead. A triple by Katelyn MacDonald scored three runs in the inning.
Plentywood gained a 10-9 lead, but Wolf Point took a 12-10 advantage in the bottom of the fourth. A triple by Jerzey Azure knocked in a run during the inning.
The Yellow Jackets ran out of gas in the championship game against Bainville. Bainville downed Wolf Point, 208, in the championship game.
Ahead by a 3-1 margin, Bainville struck for seven runs in the bottom of the second inning. Wolf Point cut the gap to 10-4 in the top of the third. An infield hit by Anna Matejovsky scored one of the runs.
Destiny Thompson hit a two-run homer and Kaelyn Romo came around the bases on a hit and error in the bottom of the third to help Bainville grab a 17-4 lead.
Wolf Point kept battling and got as close as 17-8 in the top of the fourth inning. Bainville's Berwick, Thompson and Kaelyn Romo scored in the bottom of the fourth for the 20-8 final.
Plentywood placed third in the tournament and Froid/ Lake was the fourth-place team.