Posted on
Miss Rodeo, Miss Teen Rodeo To Attend Stampede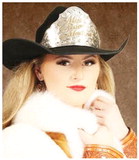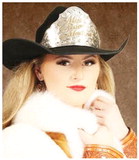 Both Miss Rodeo Montana and Miss Teen Rodeo will attend the Wolf Point Stampede this year.
Miss Rodeo Montana Clancy Olson is the 23-year-old daughter of Vanessa and Joe Olson from Helena. She is graduating from Miles City Community College with her second degree in entreprenuership, while already possessing a degree in the equine program.
During her time at MCCC, she has been competing on the rodeo team in barrels. After college, she plans to train horses while learning from a cutting horse trainer in Helena for a few years before branching out on her own. She also plans to train a few barrel horses throughout her career.
Olson lives every day by this quote: "You can't be better than anyone else. The only person you can be better than is the person you were yesterday."
Elle Bucher is Miss Teen Rodeo Montana 2023. She is from Missoula and attends Big Sky High School in the health science academy and is an honors student.
She grew up in the dirt outside of the arena and got to a horse as fast as she could. Her love of horses led her to compete in local omoksees, gymkhana and finally rodeo. She has been attending the Western Montana Fair and Missoula Stampede Rodeo since before she can remember!
She has participated in 4-H and FFA, showing poultry, sheep, goats and horses and shooting competitive archery. In my free time, I love to try my hand at anything, recently including playing pool and learning to swing dance. She loves to ride all different kinds of horses and work in the summer putting miles on horses for other people as well as training her own. She says she is blessed to have two amazing horses, which she will have the opportunity to learn and grow with this summer.
She started competing in rodeo pageants when she was 12 years old. Her first title was Little Miss of the Missoula Stampede. She spent last year attending more than 20 rodeos as the Darby Rodeo Association Queen. From her first rodeo, she knew she wanted to be in that arena! She says the crowd, the energy and the family she found through the rodeo are unparalleled. She is excited to have the opportunity to represent rodeo and the great state of Montana as 2023 Miss Teen Rodeo Montana and cannot wait to see what this year has to offer.