Posted on
Booth Provides Many Stampede Items For Historic Week In Area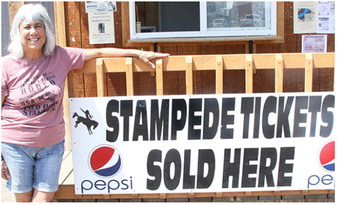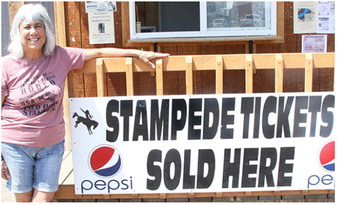 The Wolf Point Chamber of Commerce and Agriculture's booth is offering tickets plus many other Stampede- related materials. The booth, located next to the Wolf Point Elks Event Center, is open in the afternoons.
Julie D'Ambrosio, executive director for the Wolf Point Chamber, notes that tickets for the rodeo at the stand are $20 for reserved or $15 for general admission. Cost is $5 more at the gate.
"The reserved buckaroo tickets are going fast," D'Ambrosio said.
Also a hot seller is the $30 all-youcan-ride tickets for the North Star Amusement carnival that starts at 5 p.m. Thursday through Saturday.
Other item available at the stand include historic souvenir posters designed by Clint Long for $75. Souvenir buckle cups for the 100th Stampede cost $275.
The winner of a buffalo hunt rattle will receive a buffalo hunt experience with the Fort Peck Tribes. The hunt will take place at the tribal buffalo ranch in either the fall of 2023 or the winter of 2024. Tickets cost $20 each.
Tickets are available for $20 each or six tickets for $100 to have a chance to win the 100th Wild Horse Stampede quilt.
All the official 100th Stampede memorabilia is also available at Bryan's.