Posted on
Annual Badlands Celebration Takes Place In Brockton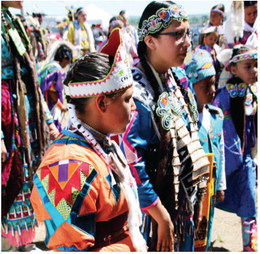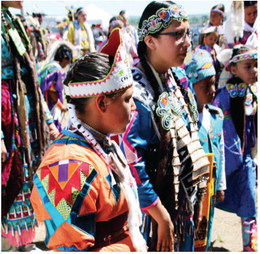 The Badlands Celebration June 23-25 in Brockton was a very relaxed affair this year, with potentially stormy weather cooperating and summer temps staying relatively low. Turcotte Food Bus owner Buck Turcotte told the Northern Plains Independent
that it was all smiles at the Brockton pow wow grounds.
"Great weekend overall," Turcotte said. "Very happy the weather cooperated. We thought the rain might put a damper on things."
Committee member Talissa Eder also said the weekend was a positive experience. "It was a good weekend," Eder said. "Everything went good, everyone enjoyed themselves and that's what it's all about." Eder said local businesses were supportive, as were other committee members.
Dance categories with payouts included men's, women's and golden age (55+) traditional. grass and jingle, as well as teen and junior categories and tiny tots specials.
A tiny tot special was hosted by Mini Princess Dlanie Spottedbird Friday evening. Co-secretary Callan Cooper hosted a tiny tot special Saturday night.
Committee advisor was Dorris Spottedbird. Treasurer was Sienna Spottedbird. Co-Treasurer was Brayan Boyd and secretary was Wyatt Spottedbird. Co-secretary was Callan Cooper. Head man dancer was Edmund Youpee and head woman dancer was Skye Hayes.
Tommy Christian was the announcer. Arena director was Raymond Olson. Drum keeper was Thomas Scott. Flag bearer was Tote Gray Hawk.
Senior princess was McKenzie Crawford. Senior first attendant was Gracie Lambert. Junior princess was Haeli Clark and junior first attendant was Brynlee Nygaard. Mini princess was Dlanie Spottedbird. Traveling princess was Kahloni Hoops Mazawasicuna and mini traveling princess was Kenzley Clark.
The third annual Maurice "Buggy" Bighorn Sr. Memorial Run was hosted Saturday morning with nearly 100 registrants and Spotted Bull Recovery Resource Center and HPDP hosted a walk/run Sunday morning and a buffalo feed Saturday night.
The next celebration on the summer schedule is Wolf Point's Wadopana Celebration is set for Aug. 4-6.
For more information about next year's event, contact Jourdan Hoops-Lovan or Talissa Eder via their Facebook pages.