Posted on
Research Topics Discussed During Field Day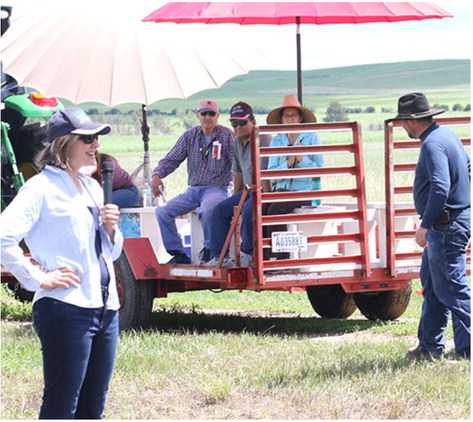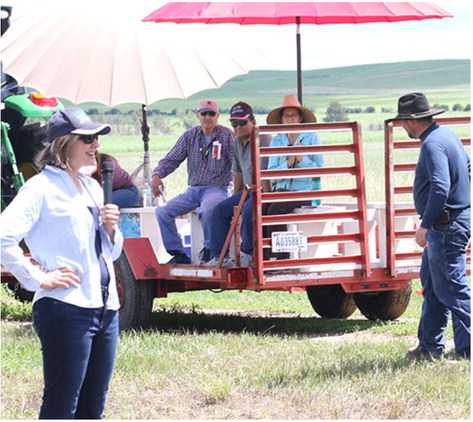 The Froid Research Farm Field Day featured seven tour talks for area producers on Thursday, June 22.
"We're glad to be back after a couple of years," Dave Branson, research leader for the USDA-ARS in Sidney's Pest Management Research Unit, said during a welcome.
He said researchers hope to continue to learn what are concerns from stockholders and producers.
"You guys are on the ground every day," Branson said. "We want to learn your issues and where we might be able to do research to reach out."
Branson urged area residents to take part in a wheat stem sawfly survey.
"More responses lead to better results," Branson said. "It might lead to more funding to help solve these problems."
If interested in taking part in the survey, go to https://ssp.qualtrics. com/jfe/form/SV_dciiOc-MQk0QVgqO?Q_CHL=qr.
There are two parts to the project. First, Montana growers are asked to complete the survey. The collected responses will be compiled by the project leader, Dr. Jeff Bradshaw of the University of Nebraska. Second, Montana State University and USDA-ARS, Sidney, will conduct a post-harvest sampling of West Stem Sawfly damage encompassing a large area of the state in the early fall.
Topics during the Froid Research Farm Field Day included: grasshopper outbreaks and management; spread of Russian olive by mammals; influence of arbuscular mycorrhizal fungi and rhizobium on soil health and plant growth; fusarium and aphanomyces root rot in field pea; water availability following a cover crop; carbon sequestration under perennial bioenergy crops and an annual crop; and greenstripping techniques for wildlife protection.
In addition, a special pollinator section was part of the tour. Research ecologist Joshua Campbell provided information regarding native bees and other pollinators in agricultural systems. Extension agents Wendy Becker and Shelley Mills conducted a workshop for starting and maintaining healthy honeybee colonies.