Posted on
Justin Nehring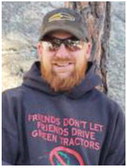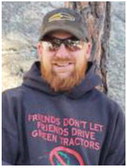 Justin Nehring
Justin Girard Nehring, 44, of Williston, N.D., died Saturday, June 16, 2023, at CHI St. Alexius Health Williston in Williston.
He was born Oct. 14, 1978, in Watford City, N.D., the son of Rebecca Holm and Charles Girard Nehring. He attended grade school at Round Prairie School and graduated from Bainville High School.
He joined the Army National Guard in May 1999 and retired in May 2021. He proudly served a year overseas in Iraq during his service.
He married Leslie (Steen) Nehring in August 2008 and they have two girls, Whitney D. and Rylie K.
He enjoyed tinkering on projects and working with his cattle on the farm. He loved off-roading with his Bronco and teaching his girls that skill and too many others to mention. He loved helping his girls with their animals and projects for 4H.
He was employed by Northwest Rural Water at the time of his death.
He was a kind and giving person and devoted father, husband and brother. He was willing to help anyone at any time.
He is survived by his wife, Leslie; daughters, Whitney and Rylie; and sister, Tracie.
Services will be announced at a later date.