Posted on
Frontier Days Rodeo Wraps Up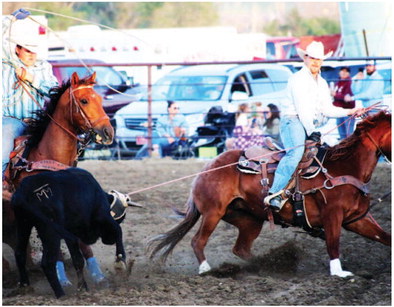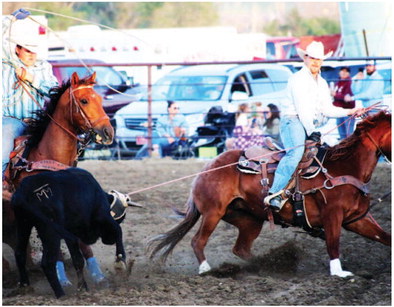 Team Roping
The 60th Frontier Days Rodeo at the Culbertson Saddle Club is in the books.
The weather cooperated and attendance was high both nights.
Attendees were treated to the regular bull riding, bareback, calf roping, etc., with the addition of a women's bronc riding event. Wild Calf races were held both nights.
Volunteer Ashlee Anderson told the Community News, "It went really well," she said. "We sold lots of burgers and the gate was good both nights."
Tucker Zingg from Crow Agency took first place in bareback. Parker Mothershead of Joliet placed first in saddle bronc. Jordan's Kelly Murnion took first in bull riding. Sterling Lee of Rhame, N.D., won steer wrestling. Gavin Beattie of Helena won the tie down event.
David Madison and Mike Forest of Peerless won the team roping. Sidney's Victoria Netzer won lady barrels. Rhame's Morgan Foss won lady breakaway. Helena's Sidnee Heimann won junior barrels and Mac LaDue of Trenton, N.D., won senior men's breakaway.
Organizers wish to remind area enthusiasts that the Saddle Club is offering events for kids Tuesday nights throughout the summer.
Visit the group's Facebook page for more information.