Posted on
High Prairie Vet Receives First Dollar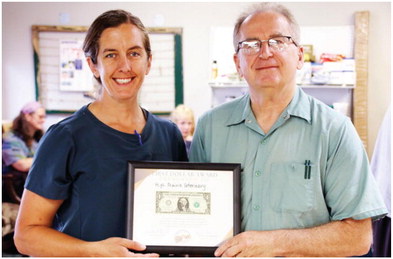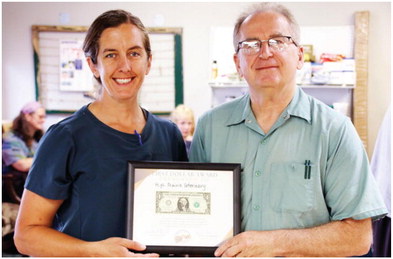 Longtime Pound Puppies vet Dr. Heather Grimm and her staff at High Prairie Veterinary Services received a First Dollar certificate from Wolf Point Chamber of Commerce and Agriculture director Jeff Presser during a short ceremony June 5.
Grimm told the Northern Plains Independent that she practiced in the area for years before beginning a search for a permanent location.
"I called northeast Montana home from November 2011 until mid 2018," said Grimm. "In mid 2018, I left the region with a prospect of purchasing a veterinary clinic in southeast Montana. In 2019, I closed on a building in Colstrip that was converted into a mixed-animal veterinary clinic. That clinic was officially open in April 2020. Through this entire process, the Wolf Point Pound Puppies were a major supporter of my veterinary business and helped keep me operating."
Since opening locally in January of this year, High Prairie has grown into a full-service mixed animal veterinary clinic that provides medical, surgical and dental care to cattle, cats, dogs, horses and other animals.
The group's website states, "We aim to provide our patients the best health care management and treatment, whether it be the beloved family pet or bold ranch animal."
Along with staff and volunteers, three veterinary students are currently assisting Dr. Grimm in Wolf Point. Kayla Martin, Ally Bummer and Carmen Venske are working through the summer is varying capacities.
Dr. Grimm said she is currently working to develop a shelter component at the facility, which she said will help take in abandoned animals.
Contact High Prairie Veterinary Services at 406-5253878, or by emailing highprairievetoffice@ gmail.com. Their website is highprairieveterinaryservices. com and they are located at 420 Cascade St.