Posted on
Students Graduate From Wolf Point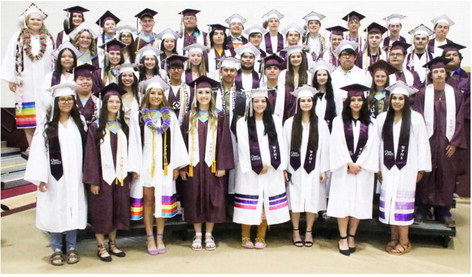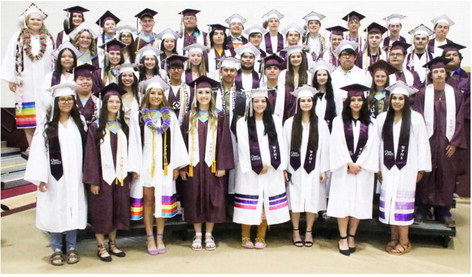 The Wolf Point High School's commencement program featured 46 graduates looking ahead to their future on Sunday, May 28.
Valedictorian Aaron Boysun said that he wasn't looking forward to graduation and leaving the comforts of high school.
"Time goes by a touch too fast," he noted. It was, however, time to move on to the next chapter in their lives.
"We don't have a choice. The hour glass always runs out of sand," Boysun said.
He explained graduation is a time to celebrate the graduates because they accomplished something with their time at the school. Because of work and commitment, they were graduating from high school.
He said it's exciting, but also scary, to enter the great unknown. He said it's time to go out and show the world what they can do.
Salutatorian Rebekah Landsrud said it took her a while to figure out high school, but she found her answers in the music department thanks to the leadership of teacher and director Russell Johnson.
Landsrud also thanked the commitment and impact of other high school teachers.
She told students still in school to find a great place where they feel at home. She said the music department is a positive spot and they will find acceptance there.
Landsrud urged graduates to find your "music" whether it's in the medical field, athletics or the military and enjoy success.
Honor student J'Elle Garfield challenged graduates to hold on to the good moments rather than the bad moments. She believes in the advice of her grandfather that pain is inevitable, but suffering is optional.
Garfield thanked all the strong female role models in her life.
Honor student Katelyn Mac-Donald spoke about how students learned the power of perseverance.
"Each one of use overcame obstacles, either big or small," MacDonald said.
She noted that wisdom doesn't only come from books but also through experiences. She thanked teachers for their dedication.
Principal Kim Hanks said the class featured many outstanding students. They succeeded in various fields including music, athletics and other activities.
"You each made your mark at Wolf Point High School," Hanks said.
Graduates included Dahmoniq Abneman-Wolff, Krisitina Alexander, Jerzey Azure, Frank Baker, Savannah Baker, Kelby Bauer, Juliun Benson, Aaron Boysun, Trevin Boysun, Kailey Bridges, Gaige Bushman, Logan Corne-Bushman, Shane Dale, Carl Douglas, Forrest Dumont, Jesse Fettig, Kayden Fleming, Audriana Four Bear, Jermone Four Star, J'Elle Garfield, Julianna Garfield, Trinniti Garrett, Presley Grandchamp, Sharon Jeffries, Caun Jensen, Vaun Jensen, Trinity Keiser, Tatum Kemp, Rebekah Landsrud, Elias LeCompte, Adriana MacDonald, Katelyn MacDonald, Kobe Manning, Corey Martell, Stonehail Moccasin, Mahala Moran, DeRay Peltier, Rorric Pipe, Abigail Pounce-Curl, Samantha Reed, Kraven Silk, Kaylandra St. Marks, Osa Umphreys, Tayden Walton, Miracle Welch and Mailey Wells.