Posted on
Doubles Team Earns Fourth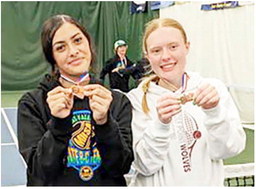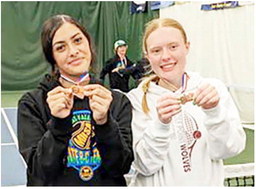 Wolf Point's doubles team of Kaylee Johnson and Kaleah Miller-Toves came away with a fourth-place showing at the state tennis tournament.
Johnson and Miller-Toves opened action with a 6-3, 6-1 victory over Three Forks. They then downed Conrad by a final of 3-6, 6-1 with a 10-2 tie-breaker.
After dropping a tough match against Townsend, Johnson and Miller-Toves defeated Bigfork by a 6-6 (7-2), 6-3 margin.
The Wolf Point team then edged Choteau in an exciting 6-4, 4-6 (13-11 tie-breaker) match. They kept winning by defeating Baker, 6-4, 7-5, before falling in the third-place match.
Mahala Moran opened with a 4-6, 6-1, 7-6 (7-1) victory.
After losing her next match, Moran defeated Jefferson by a 6-3, 6-2 final. She then lost a tough tie-breaker match. The senior tied for 12th place at the tournament.