Posted on
Students Become Creative Through HEART Project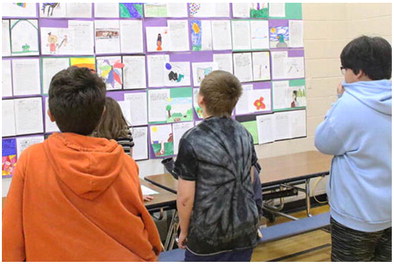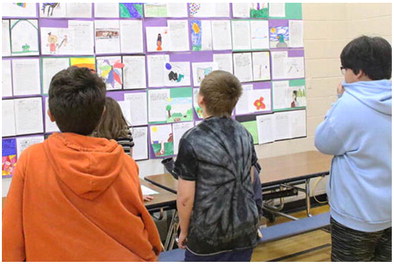 Parents and fellow students enjoyed the chance of viewing art work during an exhibit at Northside Elementary School on Thursday, May 18. The students' artwork was created during the HEART project throughout the school year.
HEART stands for Health Education and Art for Resiliency Teaching. Goals include improving the well being and school success of elementary students living on the Fort Peck Indian Reservation.
The art exhibit featured a drum group performance and a slideshow.
Each student received a "yearbook" that featured photos of projects throughout the school year. The publication also included art work by some of the students.
Dr. Julie Alexander Ruff is the principal investigator of the HEART project team. Co-principal investigators are Dr. William G. Ruff and Dr. Sarah A. Ruff.
Also on the project team are Georgie Gourneau as school principal, Rain Turcotte as tribal cultural liason, Jay Kirk as licensed clinical psychology counselor, Grant Legare as school counselor and Colleen Trottier as graduate student research assistant.
MSU student research assistants were Chelsey Roper and Alexandra Wilz.
The artwork by the students was displayed at the Montana State University's Native American Hall.
Through the project, students participated in monthly activities focused on cultivating culture, healthy habits and creative expression. Students are guided by community elders and a nurse practitioner in the creation of artwork that reflects students' development and understanding of well being, self identity, resiliency and coping.